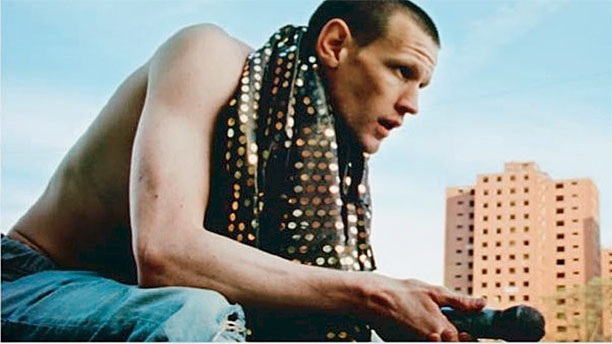 This, friends, is what British people of a certain age and social background would call a rum do.
A teaser for Lost River, the movie Matt Smith was working on when he announced his departure from Doctor Who, the movie that demanded he shave his head, has been posted online, as it is due to premiere at the Cannes Film festival today.
Originally titled How To Catch A Monster, this is Ryan Gosling's first movie as writer, producer and director, and as you can see from the teaser, it's an unorthodox affair:
https://www.youtube.com/watch?v=OnE9bF3Bm6U
I know, right?
Lost River is a fantasy tale, filmed in Detroit, concerning a single mother called Billy (Christina Hendricks) whose attempts to look after her teenage son (Iain De Caestecker) drag her deeper and deeper into a dark underworld. He, in the meantime, has discovered an underwater town, and this just puts them even further into jeopardy.
And yes, it's a beautiful and fitting irony that the movie Matt made while announcing his departure from Doctor Who should end up being called Lost River. 'Cos let's face it, he has.
See more:
WATCH: Britain at Cannes: Mike Leigh, Ken Loach, Matt Smith's 'Lost River'
Where Can You See Your 'Doctor Who' Favorites This Summer?
Big News! Matt Smith Goes from the TARDIS to 'Terminator'
WATCH: Matt Smith's Tearful Final Moments As The Doctor
Read More
Filed Under: