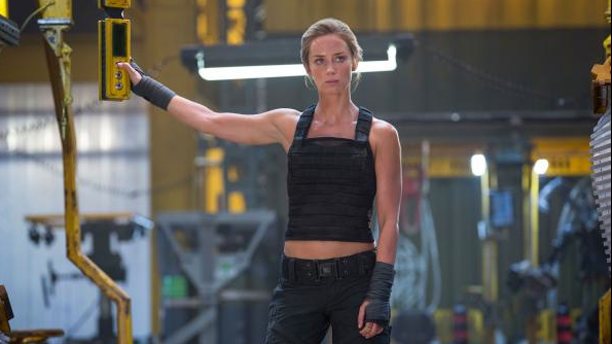 "Emily Blunt, action hero." Ooh, that has a nice ring to it. Sure, Tom Cruise (Mission: Impossible, Jack Reacher) might be the headliner in director Doug Liman's sci-fi action film Edge of Tomorrow, but apparently Cruise handpicked Blunt (Young Victoria, Devil Wears Prada) to star opposite him. Surely he won't mind sharing the spotlight with the English actress as she's initiated into the action genre.
In the forthcoming film, an alien race has settled on Earth, and does not appear to be leaving anytime soon. Cruise plays Lt. Col. Bill Cage, who is sent in to combat the alien life forms. The thing is, he has never seen battle before this conflict. He meets Special Forces soldier Rita Vrataski (Blunt) who shows him how to handle himself in a war zone.
In the below clip, courtesy of ComingSoon.net, Cage is desperate to get Vrataski out of harm's way, but she doesn't seem to want to go with him:
In the next clip, Cage is seen training with Vrataski advising him "on a very important rule, the only rule.":
In the third clip, yes, there's a third, Cage gets an idea, but Vrataski shoots it down:
We didn't exaggerate when we referred to Blunt as an "action hero." She doesn't play the damsel in distress or buttoned-up supervisor who's all nice and tidy back at home base. She is the real thing, with her character actually teaching Tom Cruise, a veteran action hero, on how to save the day.
Edge of Tomorrow hits U.S. theaters on Friday, June 6.
Are you excited to see Emily Blunt get her action on?
See More:
WATCH: Colin Firth and Emily Blunt in 'Arthur Newman' Trailer
Has Emily Blunt Fully Realized Her 'Devil Wears Prada' Potential?
Snapshot: 9 British/American Celebrity Couples
Read More
Filed Under: