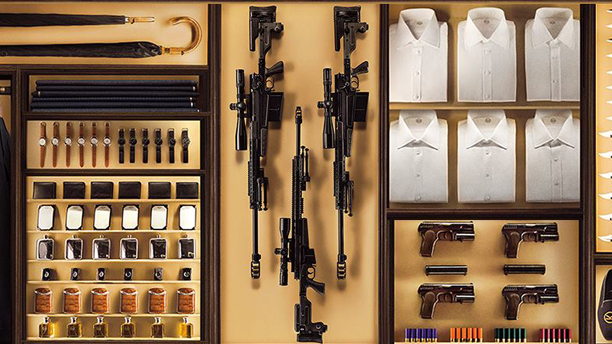 We all agree that secret agents are sexy, right? There's something particularly appealing going on with the British spies in the film adaptation of comic creator Mark Millar's comedic espionage movie Kingsman: The Secret Service, as seen in the recently released trailer.
Millar, who wrote the Wanted and Kick-Ass comic books, has a reputation for giving his good guy protagonists a little edge.
In Millar's latest comic-turned-film, Colin Firth is a Bond-like supervisory figure in the secret service, posing as a refined tailor. He recruits a delinquent street kid (Taron Egerton) who is extremely smart, but on the verge of giving up the straight life for more criminal activities. The freewheeling high school dropout doesn't seem like the ideal prototype to bring into such an elite group, resulting in Michael Caine and Mark Strong, both Kingsman's officers, expressing their doubts on whether or not he'll make it through the trainee program.
Take a peek at the most dangerous job interview ever in the trailer below:
https://www.youtube.com/watch?v=yyxDVCb3ky4#t=13
Matthew Vaughn, who has brought us Lock, Stock and Two Smoking Barrels, Snatch, Layer Cake, Kick-Ass and X-Men: First Class, is on board to direct.
"We missed all the spy movies we loved as kids, whether it was Bond or In Like Flint," says Vaughn in an interview with Entertainment Weekly. He goes on to say, "They had a sense of humor as well as being a thriller."
Kingsman: The Secret Service will hit U.S. theaters on February 13, 2014.
Are you into spy films? 
See More: 
Brit Binge Watching: Five Spy Dramas You Can View Online
Damian Lewis Set to Star in Spy Flick 'Our Kind of Traitor'
What Are Brits Watching?: 'Penguins: Spy in the Huddle'
Read More
Filed Under: