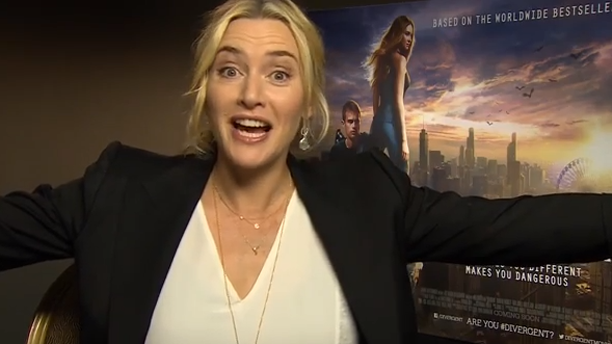 This is one cheeky reporter. Apparently Sky News film critic Joe Michalczuk hasn't heard the saying, "Don't mix business with pleasure," because during his interviews with hugely famous stars he asked the interviewee to send out well-wishes to his bride-to-be Jenny.
Or perhaps he opted to follow the other rule of thumb: "Don't ask for permission. Ask for forgiveness."
Well, however he pulled this off, the finished video is fantastic. It looks like Michalczuk was on assignment interviewing actors as they made their rounds with press folk, promoting their latest projects. We're guessing he covered the usual topics like "What made you want to do this film?" and "Was that kissing scene awkward?" But he then rounded out the interview with a personal question, asking the actor across from him to give a shout out to his sweetie Jenny.
For the most part, everyone seemed keen on the idea. Some people, who we won't single out (okay, it was Kate Winslet), gave a little bit of an eye roll, but that was made up for with Hugh Jackman's enthusiastic monologue summing up the pros and cons of marrying an Englishman over an Australian.
The video is jam-packed with actors giving their thumbs up including: Zac Efron, Emma Stone, Leslie Mann, Cameron Diaz, Kate Upton, Andrew Garfield, Jamie Foxx, Miss Piggy, Kermit the Frog, Samuel L. Jackson, Scarlett Johansson, Chris Pine, Ty Burrell, Anne Hathaway, Arnold Schwarzenegger, Kate Winslet and Hugh Jackman.
Miss Piggy's response to Michalczuk is the best, where he jokingly says he'd run away with the Muppet. It was just a joke; obviously, she's with Kermit.
You can check out everyone's well-wishes, and meet Michalczuk himself at 00:18, in the below video:
Aw, somebody loves you Jenny. Congrats to both of them on their recent nuptials!
What was your favorite shout-out? 
See More:
Zach Braff Helps British Fan Propose to His Girlfriend
Vivienne Westwood Designs Miss Piggy's Wedding Dress
Throwing a Perfect Wedding: How to Combine British and American Traditions
Read More
Filed Under: