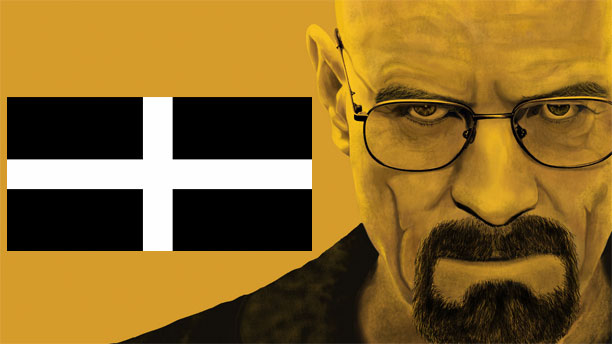 Because what we all needed, without even really realizing it, is a spoof on Breaking Bad featuring a series of strong West Country accents, right?
As you can tell from his YouTube channel, Colin Leggo likes to have fun by dubbing Cornish dialogue over famous movies, news events and video games, and his inspired commentary on the recent announcement that the Cornish are to be granted minority status is this, a particularly fine Breaking Bad spoof.
Don't worry if some of the references sail clear over your head, there's a glossary below.
Glossary:
Ansum (or more correctly handsome) – Simply means very good.
Duchy – Cornwall is not like other counties in the UK. As it is nominally ruled by Prince Charles, the Duke of Cornwall, it qualifies as a duchy rather than a country—like Wales or Scotland—or a county like Devon.
Truro – Cornwall's administrative hub and sole city, by dint of the fact that there is a gert big cathedral in the middle of town.
Gert – big.
Bude – pretty little town on the north coast of Cornwall. Not a city.
Homebase – a hardware store.
Asda – supermarket, run by Walmart.
A39 – the road that leads up the north coast of Cornwall towards Bude.
See more: 
The Cornish Become An Official Minority
The 10 Most (And Least) Romantic British Places To Take Your Valentine
Happy St. Piran's Day, From Cornwall!
Move Over Nessie: Five Mythical British Beasts
Read More
Filed Under: