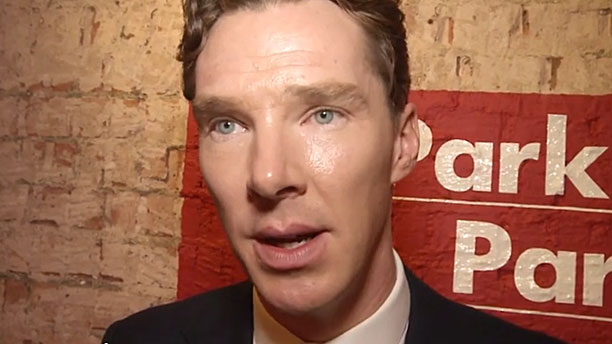 You can't just ask Benedict Cumberbatch a couple of quick questions, especially on a topic such as the continued popularity of British theater, grab a couple of soundbites and waltz off.
Here's a video taken a few days ago by Red Carpet News TV, at the first anniversary party for London's Park Theatre.
You will notice he is un-swerved from his dedication to talking total inspirational sense about the dramatic arts by an attempted videobombing, and the clear presence of a party in the background.
And he draws a firm parallel between his early career and that of Tom Hiddleston, pointing out they both got started in relatively low-key theatrical productions—he playing Shakespeare in the open air in Regent's Park, Tom in Cheek By Jowl productions—but treating them with the reverence and respect a paying audience deserved:
"I, as everyone else involved, treated it as if it was the RSC or The National as there was a paying audience coming to see Shakespeare – some of them perhaps for the first time, some of them might have seen the play a hundred times before so you have to work hard to justify why the culture should be taking on a classic again.
"Cheek By Jowl, in Tom's case, was a wonderful example of reinventing and reimagining some classics."
Here's the whole thing, because it's great:
See more: 
WATCH: The Russian 'Sherlock' Flashmob Extravaganza
LISTEN: Pre-Fame Benedict Cumberbatch (and David Tennant) in Radio 4′s 'Mansfield Park'
Benedict Cumberbatch, Tom Hiddleston and Arthur Darvill Design and Sign 'Cards for Keeps'
Five British TV Shows That Have Been Around Longer Than 'Doctor Who'
Read More
Filed Under: