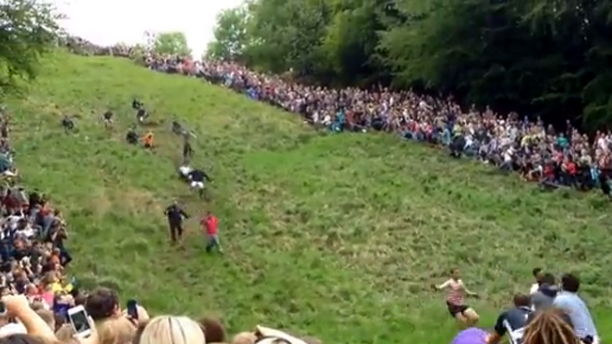 Has it already been a year since last year's cheese-rolling race in Gloucestershire, England? What, you don't base your calendar around this event? Possibly it's on our radar since American Kenny Rackers, 27, took home the win in 2013.
This year, the winner doesn't even like cheese. Who doesn't like cheese? And, if so, why risk life and limb chasing it down a steep hill? I mean, the prize is … cheese. To be more exact, the winner takes home the cheese they grab at the end of the race, an eight pound Double Gloucester Cheese.
Winner of the first race, Josh Shepherd, 19, from Brockworth, Gloucestershire, told BBC News, "My tactic was to stay on my feet and go as fast as I can and roll with the flow."
He expanded on his achievement, saying that he's proud of himself. But he admitted he was puzzled about the prize, adding, "I don't know what I'm going to do with the cheese. I don't really like cheese unless it's melted, cheese on toast maybe."
He could regift the cheese, but with all the news coverage, the recipient would likely know that it wasn't purchased with them in mind.
Our guesstimate is that Shepherd, who is local to the race, decided to take part for the following reasons, not necessarily in this order: 1) He lives nearby; 2) A bit of friendly competition; and 3) A good workout.
If you're new to the cheese-rolling event, here's a look at the first race for 2014:
The above video is quite mild compared to this cringe-inducing footage courtesy of BBC News.
This tweet may get the point across:
In pictures: Thousands gather to watch Cooper's Hill cheese rolling competition http://t.co/GTPlCHPvZq pic.twitter.com/rqdAWeMolT

— Telegraph Pictures (@TelegraphPics) May 27, 2014
Shepherd has competed in the race a few times, but this is his first win. Ryan Fairly, 24, also from Brockworth, won the second race. The women's race was won by Lucy Townsend, 17, for the third year in a row. Townsend is also from Brockworth. It seems like the race might be leaning toward locals to win, but residents explain they have more practice on the hill, leading up to the race. Even so, Sheldon Ronald, 20, from Melbourne, Australia, won the final race.
The tradition of cheese-rolling goes back 200 years and involves an eight pound Double Gloucester Cheese being tossed down a very steep hill with racers madly chasing the cheese. The organized event was canceled in 2009 due to injuries and crowd control, but the race has taken place unofficially every year since then.
Close to 5,000 spectators gathered for this year's event, on Monday, May 26, taking place every year over England's Spring Bank Holiday.
You can check out highlights from previous years here.
What would you tumble down a hill for?
See More:
WATCH: American Wins Annual Cooper's Hill Cheese-Rolling Race
WATCH: Britain's National Wife Carrying Competition
WATCH: Parliamentary Pancake Race
Read More
Filed Under: