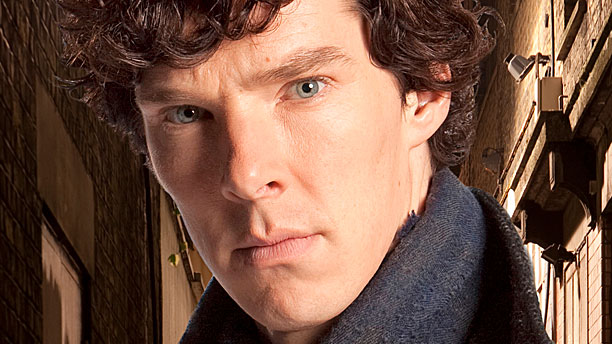 Were David Tennant and second Benedict Cumberbatch not sexy enough to play the parts that first put the skyrocket under their career aspirations?
Steven Moffat was addressing an audience at the Hay Festival over the weekend, in which he described making the casting choices for the leading men in Sherlock and Doctor Who, and Russell T. Davies' involvement in casting David Tennant in Casanova, and the strange feedback they got from commissioning editors.
He explained: "They said of casting David Tennant as Casanova, 'Damn, you should have cast someone sexier'. With Benedict Cumberbatch, we were told the same thing. 'You promised us a sexy Sherlock, not him.'"
Let's just pause a moment to let that percolate in the air. David Tennant, not sexy. Benedict Cumberbatch, also not sexy.
Now, of course, he's very happy to have been proven right. Especially as Benedict's career has been quite as monumental a success story as it has: "You don't get to see it on your watch often that someone goes from to being a big international movie star. It can be quite annoying too if you're scheduling a damn show."
And while we're on the topic of wrong-headedness, did you know David's departure from Doctor Who raised fears that it would be able to continue at all?
Steven explained: "David owned that role in a spectacular way, gave it an all-new cheeky sexy performance and became a national treasure. And he didn't do it instantly, he did it over time. So the idea that Doctor Who could go on at all in the absence of David was a huge question."
"I didn't realize how many people thought it wouldn't succeed at all. That was quite terrifying when I found out about it later. I think there were plans maybe to consider ending it. It was Russell T. Davies saying, 'you are not allowed to end it.'"
Steven's story of the casting of Matt Smith as the Eleventh Doctor bears a further repeat too, especially as it proves quite how singular Matt is as a physical presence: "I said, 'we are seeing too many young actors'. Then Matt Smith comes in, and this is what happens when you get casting right.
"The moment Matt started saying that dialogue, with his strange manners and his extraordinary face, he was a hot young guy but he also looked kind of like your barmy uncle. I said I really like him. What age is he? They said 26."
And thankfully the issue of whether he is sexy or not appears to have been artfully sidestepped.
See more:
WATCH: The Russian 'Sherlock' Flashmob Extravaganza
Why 'Doctor Who' Didn't Show Christopher Eccleston In The War Doctor's Regeneration
Cumberbatch: 'I'm Never Gonna Play the Doctor'
Steven Moffat: "'Sherlock' and 'Doctor Who' Are Obtusely British"
Read More
Filed Under: