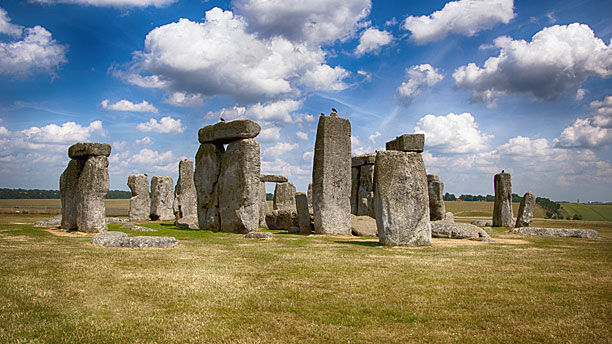 Here's a bit of genuinely twisty time travel that may give you historical vertigo.
Stonehenge, the most iconic set of neolithic standing stones in the world, was built around 5,000 years ago. But a new series of archeological finds have confirmed that the stones were positioned where they are, in the middle of Salisbury Plain and near the river Avon, because of their proximity to a settlement that has been on that site for the same amount of time again, and continues to be so.
Amesbury has been recognised by the Guinness Book of Records as the longest continuous settlement in the United Kingdom, having been occupied since at least BC8820. That's over ten thousand years, and Stonehenge—a mere two miles away—only came along after five of them. Heck, there's only been an England for a little over ONE thousand years. For nine times as long as that, there has been an Amesbury.
A new haul uncovered scores of mesolithic flints (as many as 31,000), some burnt from feasting fires, amid the bones of larger game animals, deer and aurochs. All of which are indicative of a continuous settlement. They also, bizarrely, found proof that the British were eating frogs' legs long before the French.
David Jacques from the University of Buckingham was part of the dig, and he told BBC News: "The site blows the lid off the Neolithic Revolution in a number of ways.
"The area was clearly a hub point for people to come to from many miles away, and in many ways was a forerunner for what later went on at Stonehenge itself. The first monuments at Stonehenge were built by these people.
"For years people have been asking why is Stonehenge where it is, now at last, we have found the answers."
The dig was part of a project led by the University of Buckingham, and has been filmed for a future documentary, partly funded by the BBC, Smithsonian, CBC and others.
See more:
Five Alternative Uses For The Cerne Abbas Giant
Is Stonehenge A Musical Infographic?
How NOT To 'Tidy Up' A Neolithic Site
Is The Loch Ness Monster Dead?
Read More
Filed Under: