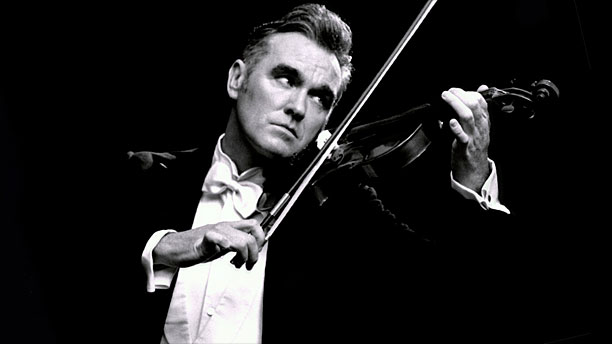 This might be the most English Anglophenia post we've ever put up, until we've dotted the is and crossed the ts on 'Match The Crumpet To The Sherlock Holmes Quote' or somesuch.
Morrissey, the scalpel-tongued poet laureate of British rock, has been offered a guest appearance in BBC Radio 4's The Archers—the longest-running serial drama (it's far too classy to be considered a soap) in radio history.
Yesterday, this cryptic post went up on True To You, the Morrissey webzine from which he often sends his thoughts into the world:
"Morrissey has been invited to appear in The Archers, which is the world's longest-running radio soap opera.
"The Archers has on average 5 million listeners per week, and first began in 1950. With six episodes per week, The Archers is the most popular show on Radio 4, and is considered to be a British institution.
"Morrissey is said to be 'fascinated' by the offer."
Now, the thing is, The Archers is a tale of farming folk. Farming folk with livestock to feed and fatten and send off to slaughter. The kind of farming folk that Morrissey routinely castigates in his public pronouncements about animal rights, and songs like "Meat Is Murder."
It seems highly unlikely that he'll meekly agree to appear in the show and not pass comment on the plight of the imaginary animals that roam the made-up fields of Ambridge, on behalf of the real animals that have to do likewise all over the world. There again, The Archers occupies a central place in English broadcasting history and we do know how much Morrissey loves a tradition.
Let's wait and see what happens next, shall we?
And that's not all he got up to yesterday. A Twitter account @itsmorrissey was launched with the following cryptic (but typical) pronouncements:
Hello. Testing, 1, 2, 3. Planet Earth, are you there? One can only hope…

— Morrissey (@itsmorrissey) May 14, 2014
Swiftly followed some hours later with…
Follow, follow, follow. Twitter is the perfect metaphor for…something. Dunno what.

— Morrissey (@itsmorrissey) May 14, 2014
Bang up to the minute with the social media satire then.
See more:
Peter Serafinowicz Sings Morrissey's 'Autobiography'
Morrissey: "I Almost Died"
Another Day, Another Preposterous Morrissey Quote…
For The Last Time, World, The Smiths Have Split Up
Read More
Filed Under: