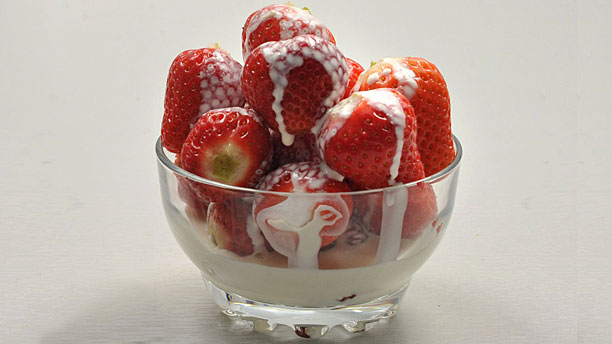 It's a little uncomfortable out here on this limb, making assumptions about the tastes and dietary habits of two whole nations. But we all know that some foodstuffs—whether they are commemorative dishes or special drinks—really don't work that well in everyday life, once taken out of their best-known context. For every daily meatball sub, there's a rare simnel cake; for every cappuccino, an egg nog.
That's not to say they're not delicious in their own right, it's just that once that special time has been and gone, the urge to keep eating or drinking tends to go with it.
So, for National Mint Julep Day, the end of a month long round of syrupy sweetness in Kentucky, here are five edible treats that also know not to outstay their welcome:
Pimm's
Granted, this isn't a one-day thing, but you never hear of people sipping Pimm's during the winter months. It doesn't do well mulled or heated up. And it's not even for drinking alone. The best Pimm's comes in a jug, with lots of fruit and ice, and several glasses, on a picnic.
You may like to know the original drink was sold as an aid to digestion and associated with a chain of oyster bars in London. There are very few oyster bars in London any more, and we have antacids for digestion, but summer without Pimm's is unthinkable.
Strawberries and cream
You can get strawberries in the supermarket all year round. Cream is not hard to come by, and yet there's a definite season for strawberries and cream, starting around about now, and waning at some point in early August. The hardcore fans may continue late into September, or begin in March, but the peak for strawberries and cream (and Pimm's, come to that) is definitely Wimbledon fortnight. That's the event the dish is most closely associated with, inspiring people all over the country to rush out and get supplies, and inspiring the supermarket Tesco to invent a strawberries and cream sandwich in 2011. It did not catch on.
Hot cross buns
Because nothing says Easter like a fruit bun with a batter cross on the top. Of course, teacakes (essentially the same thing) are available and eaten all year round, but the hot cross bun is only for Easter time. I wonder if we could design and market a spider-web equivalent for Halloween…
BBC Food: hot cross buns
Haggis
Again, no reason not to eat Scottish cuisine's finest gift to the world (of non-vegetarians) all year round, and plenty of people do. It's just harder to find in places where there is not a strong Scots community connection. The exception is mid-January, when supermarkets from Land's End to, well, John O'Groats stock up with haggises for Burns' Night (January 25), and grateful diners wonder why they don't boil one up more often.
BBC Food: haggis
Brandy sauce
There's only one use for brandy sauce, and that is as a hot custard to go with Christmas pudding. It is white, and it has brandy in it. Christmas pudding—which is traditionally soaked in brandy and set on fire before service—is clearly the sort of thing that only gets eaten once a year, and because of this (and the brandy hangovers) brandy sauce tends get left behind once the decorations are down. Maybe if it was poured into a mug and served as a winter warmer, things would be different.
BBC Food: brandy sauce
See more:
WATCH: 9 British Dishes Everyone Should Try
5 British Soft Drinks That Americans Should Try
How Do You Like THESE Apples? 10 Of Britain's Best
5 Recipes From Victorian England
Read More
Filed Under: