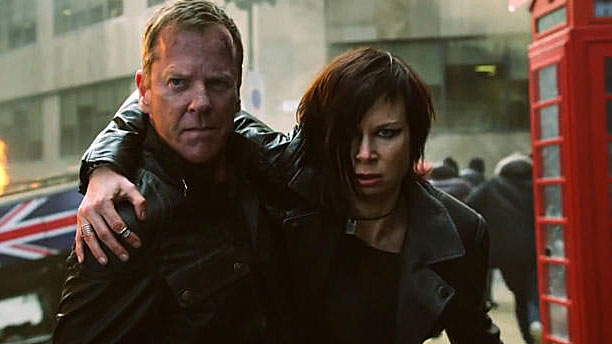 Yesterday, Jack Bauer returned to the world's TV screens in a new series of 24, which is Bond-ishly entitled 24: Live Another Day. It is entirely set in London, which gives us the perfect excuse to take a tour of the city as seen through the eyes of the various agents, counter-agents and Presidents that are currently visiting the city.
Here's what we learned about London from episode 1:
"CIA London Station"
A station that you won't find on the tube map, it's fair to say. Outside, a nondescript office block in London. Inside, the CIA have set up an office in the set from the TV show Mi5. Which is fitting, when you think about it.
Shepherd's Bush Market
In the shadow of the railway arches in West London lies Shepherd's Bush market, where CIA operatives are on the prowl and you can get sweaters for £6, or two for a tenner.
"Target is moving west, on his way to the river"
Not from Shepherd's Bush Market he isn't. The only river west of there is the other side of Ealing, which is a long run.
The London Skyline
That big dome there is St. Paul's Cathedral. And on the horizon, giant sentient robot cranes make their first attack.
The American Embassy
That's not the real American Embassy in London of course, but the man on the stick at the back there is Prince Frederick, son of George III and the actual grand old Duke of York from the song.
Lambeth Bridge
In order to drive Jack Bauer to CIA London Station, they have to go south of the river, which will cost an arm and a leg at this time of day.
Trafalgar Square
As seen from the window of the president's car. You can see the feet of Major-General Sir Henry Havelock's statue, and the fellow on the horse is King George IV. Havelock was high up in the British army during the days of colonial rule in India, as you probably already know.
"I just love this city, you can feel the history."
Said with Nelson's Column proudly waggling between the President and the First Lady. They are definitely on the way somewhere from Trafalgar Square, make no mistake.
"Belcheck, pull over at the end of the block"
This is what the end of a block looks like in London. It's not a very big block.
Keep your eyes peeled for Stephen Fry in future episodes.
See more:
WATCH: How Many British Things Can You Spot In The New '24′ Trailer?
Warning: Kiefer Sutherland Is… Secretly British
Snapshot: 10 Photos of London Fog
LOOK: Massive Hedgehog Invades London
Read More
Filed Under: