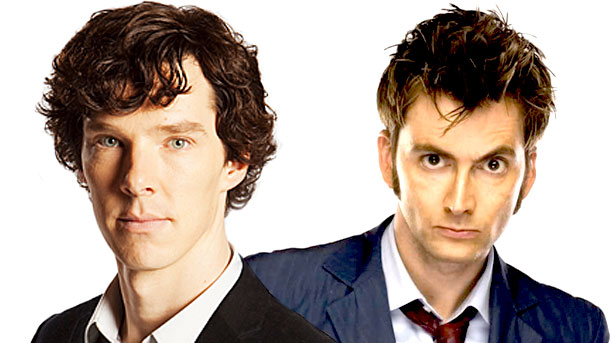 Oh now here's an enticing thought: the prospect of Sherlock and the Tenth Doctor appearing in the same place and the same time, and it's back in the era of Jane Austen. Not that they were Sherlock or the Tenth Doctor at that point, or even that they were destined to become Sherlock or the Tenth Doct…
I should probably explain. Back in 2003, BBC Radio 4 commissioned an adaptation of Austen's Mansfield Park, starring Felicity Jones as Fanny Price, and a young actor with a preposterous name—Benandick Culpepperpotch, or something —as Edmund Bertram. As is traditional with costume dramas, even on the radio, they also hired veteran actors Tim Piggot-Smith and Julia McKenzie to flesh out the rest of the cast, not to mention a skinny fellow from Scotland with big eyes by the name of David Tennant.
Little did anyone know that eleven years later, two of the cast would be among the hottest of hot properties, having helped to resurrect and re-popularize two of British fiction's most iconic characters.
Next week, BBC Radio 4 Extra is rebroadcasting that fateful production of Mansfield Park, and have put up a clip of young Benedict as Bertram, discussing hats with his best friend Fanny.
There will be 10 episodes in total, appearing daily from May 12 and available worldwide on the BBC's iPlayer Radio. For full details of how you can hear David, and the story in full visit their Mansfield Park page.
See more:
Benedict Cumberbatch, Tom Hiddleston and Arthur Darvill Design and Sign 'Cards for Keeps'
Five British TV Shows That Have Been Around Longer Than 'Doctor Who'
Martin Freeman Teases A One-Off 'Sherlock' Special
Benedict Cumberbatch To Play Ian Fleming?
Read More
Filed Under: