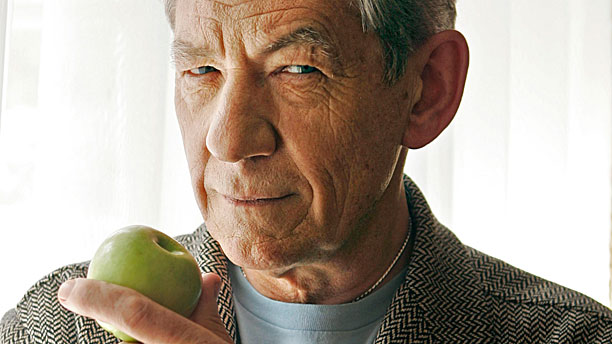 More news has emerged of the new Sherlock Holmes project we mentioned last September, the one that has nothing to do with either Benedict Cumberbatch, Robert Downey Jnr. or Jonny Lee Miller.
A Slight Trick of the Mind is a movie based on a novel by Mitch Cullin in which the great detective is well into his dotage. It's 1947, and Sherlock Holmes—played by Sir Ian McKellen—is alone in a village in Sussex, with just his memories of an unsolved case involving a beautiful woman to tax that considerable intellect.
He does have a housekeeper at least, to replace Mrs. Hudson. Her name is Mrs. Munro, and she'll be played by The Big C and Love, Actually star Laura Linney. And she has a son who just loves a mystery.
Also joining the cast is Hattie Morahan, from the BBC's Outnumbered, and the film—due to start filming this summer—will be directed by Bill Condon (Twilight, The Fifth Estate).
More details to follow, as soon as we get 'em!
See more:
WATCH: Sirs Patrick Stewart and Ian McKellen Play a Bromantic 'Newlywed Game'
James McAvoy, Hugh Jackman and Michael Fassbender Attempt Impersonations of 'X-Men' Castmates
Funny British Adverts That Give Super Bowl Commercials a Run for Their Money
PHOTOS: Sirs Patrick Stewart and Ian McKellen's NYC Adventures, Remembered
Read More
Filed Under: