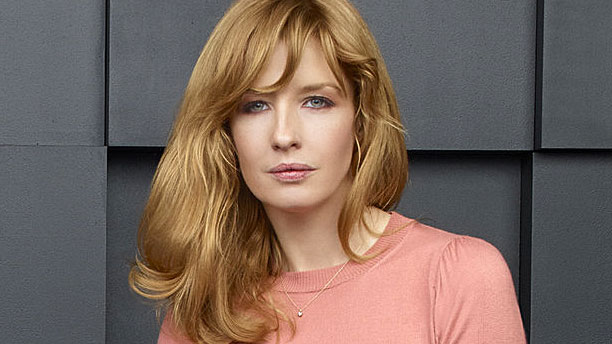 If you've been watching ABC's new drama Black Box, in which Kelly Reilly plays a neurologist with her own secret battle against mental illness, you'll be aware that Kelly can rock a decent American accent with the best of them.
You may have also seen Kelly flaunt her vocal (as well as stellar acting) abilities in movies like Flight, Calvary and Innocence. She's good at that stuff.
But as she's officially one of ours, a British actress born in Surrey with a career based both in costume drama, heavy theater and the movies, here's a celebratory wallow in some of the British roles that helped make her name, starting with the most recent:
Chinese Puzzle (2013)
The third in a series of multilingual romantic comedies with international locations. Chinese Puzzle followed 2005's Russian Dolls, which followed L'Auberge Espagnole from 2002.
Meant To Be (2010)
It's a fairly typical rom-com storyline. Angel meets girl, girl doesn't meet angel. Angel becomes human, girl meets potential new boyfriend, girl meets human angel, shenanigans ensue.
Sherlock Holmes (2009)
It's impossible to tire of scenes in which Sherlock Holmes makes deductions, most of which are accurate, and ends up completely covered in wine for his trouble. This is a particularly good one.
Above Suspicion (2009)
In which Kelly takes on the Helen Mirren-style role in a younger, refreshed version of Prime Suspect (with a remarkable similar title), taking her character Anna Travis from her first cases as a Detective Constable to a more senior role as Detective Inspector over four gripping two-part stories.
Eden Lake (2008)
It's a basic rule of horror movies: never ever go out in the middle of nowhere for a vacation if you don't want to end up hiding in a toilet with a cutthroat razor, covered in muck. Maybe consider Disney World next time…
Puffball (2008)
Oh and while we're at it, don't go to the scary farm in the place where the old magic still runs wild, especially if you are pregnant and in a story written by Fay Weldon and directed by Nic Roeg.
A For Andromeda (2006)
An alien intelligence sends instructions to Earth via radio waves, encouraging human scientists to build a computer. This then sets to work making a human, a copy of one of the scientific team who recently died. It can't end well, can it?
Mrs Henderson Presents (2005)
Aw look, Dame Judi Dench and the late great Bob Hoskins setting up a burlesque show. What's not to love?
Pride & Prejudice (2005)
In which Kelly and Keira Knightley promenade around a small room while teasing Matthew Macfadyen into flirting with them. Which he does, albeit rather grumpily.
Dead Bodies (2003)
Yes that IS Sherlock's Andrew Scott! Look at him being all sarcastic, just like Moriarty. *sigh*
See more:
An Appreciation: Five Worthy Roles Played by Actor Bob Hoskins, Dead at Age 71
WATCH: Keira Knightley on Playing American in 'Laggies'
Dame Judi Dench Works as a Shop Assistant
WATCH: Dame Helen Mirren Plays Juliet For 10 Seconds
Read More
Filed Under: