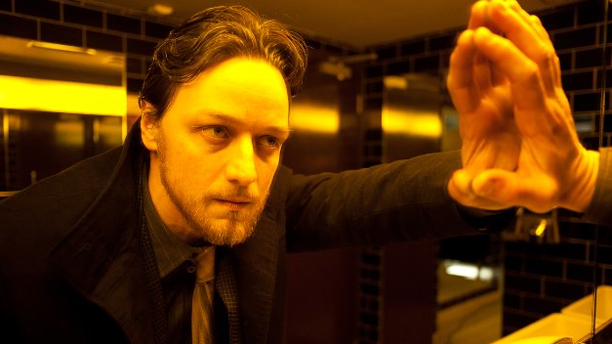 Only a week after reprising his best known role as brainy mutant Charles Xavier at multiplexes in the latest X-Men film, X-Men: Days of Future Past, James McAvoy turns super scummy as a gleefully corrupt cop in Filth, which opens Friday (May 30) in New York.
It's a major change-up for the Glasgow-born star, known for portraying sensitive, admirable characters in such films as Atonement, Wanted and his X-Men debut film, X-Men: First Class. He gets totally down and dirty in Filth.
McAvoy portrays an Edinburgh police detective in the British indie, a comic drama based on a novel by Irvine Welsh (Trainspotting) and is directed by Jon S. Baird (Cass). His character spends Filth scheming to land a promotion at the office even as he's coming spectacularly undone emotionally and psychologically, going on epic alcoholic, narcotic and sexual benders and otherwise misbehaving every way he can.
McAvoy shines in the darkly showy role, for which he took home the Best Actor award last year at the British Independent Film Awards. (Co-stars Shirley Henderson and Eddie Marsan were nominated for their performances in supporting roles, as was Baird for his direction.)
In the interview below, McAvoy says he drank half a bottle of whiskey a night while making the film, the better to achieve a proper level of dissolution for his character. He appeared last fall, along with author Welsh, to discuss the film on a news show on the Scottish channel, STV:
Reviewing the movie in the New York Post, critic Kyle Smith wrote, "McAvoy rules" and went on to describe him as "one of the most vital and versatile actors of his generation." In The Independent, critic Geoffrey MacNab declared, "Thanks to a tremendous performance from James McAvoy, the film has an emotional kick that you wouldn't expect."
Filth's all-star British cast also includes Jamie Bell, Jim Broadbent, Imogene Poots, Joanne Froggatt (of Downton Abbey fame) and, in a cameo, Trudie Styler (aka Mrs. Sting), who is also a producer.
The film was released last fall the U.K. and Ireland, where it pulled in $6.2 million at the box office, making it the seventh highest grossing British indie for the year.
On Friday, it opens in New York and then will expand to theaters across the country in coming weeks. It has been available on Video on Demand in the U.S. since late last month.
Do you want to see James McAvoy in Filth? 
See More: 
WATCH: Michael Fassbender, James McAvoy, and Sirs Ian McKellen and Patrick Stewart in Leicester Square for 'X-Men' U.K. Premiere
Battle of the Bromances: Fassbender and McAvoy vs. McKellen and Stewart
Five British TV Shows That Have Been Around Longer Than 'Doctor Who'
Read More
Filed Under: