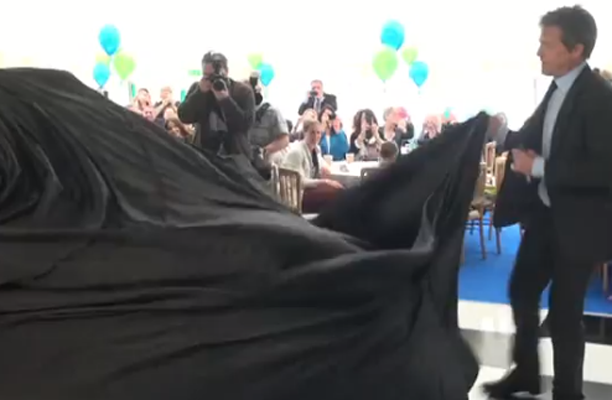 Staffordshire, England received an unexpected visit from movie star Hugh Grant, who was on site to help out his friend and former fire fighter Paul Dadge unveil a new community responder vehicle this past weekend, reports local news outlet Express & Star.
Hugh, being his typical befuddled self, starts off the presentation saying, "You're probably wondering what I am doing here. So am I."
While he may not be prone to giving launch speeches, he got the laugh early on, winning over the crowd.
He explained his presence saying, "I've got Dadged," referring to his friend.
Dadge, who lives in Staffordshire, was hailed as a hero for his efforts following the 7/7 London bombings in 2005, helping victims get out of harm's way. He wasn't on duty as a fireman, but making his way home after being evacuated from the underground train. A photograph of Dadge helping a woman wearing a burn mask was seen across the U.K., turning him into a "reluctant hero."
Grant addressed Dadge's hero status, joining his friend in playing it down saying, "He is billed always in the press as Paul Dadge, 7/7 hero. But I think of him more as Paul Dadge, 24/7 pain in the ass."
Again, Grant got the laughs. The actor takes a dramatic pause, continuing on to say, "I can't actually get him out of my life. He's almost closer to me than any other human being now."
Things got a little awkward near the end of the speech, but Grant was able to win the audience back.
You can watch Grant's full speech here:
Grant's set to appear in Guy Ritchie's The Man from U.N.C.L.E. due out in 2015.
Would you invite Grant do do an opening speech after witnessing the above?
See More:
Hugh Grant Joins Guy Ritchie's 'The Man From U.N.C.L.E.'
'Four Weddings and a Funeral': Where Are They Now?
Five Upcoming TV Remakes of British Productions
Read More
Filed Under: