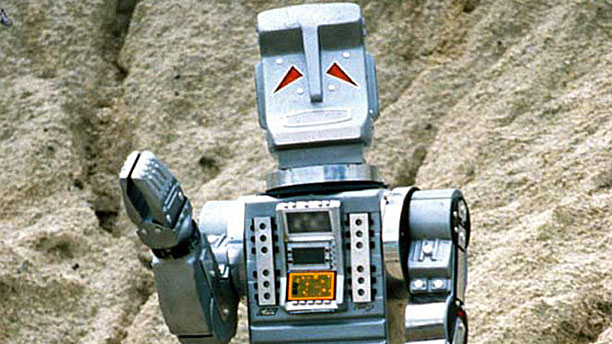 To celebrate the life and work of Douglas Adams, as we must always do on May 25, we should all make an effort to be better, cleverer people, taking the words of one of his finest, noblest characters as direct inspiration: Marvin the Paranoid Android.
So, with that aim in mind, these are the six things you need to get yourself sorted, helping you become satisfied and fully rounded human beings, all backed up with some of Marvin's most inspirational quotes. You can go ahead and transfer his eternal wisdom onto gifs for social media, or even have them indelibly inked onto various parts of your body using tattoos:
A Sunny Disposition:
Marvin: "My capacity for happiness you could fit into a matchbox without taking out the matches first."
Arthur: "I think that door just sighed."
Marvin: "Ghastly, isn't it?"
Marvin: "Sorry, did I say something wrong? Pardon me for breathing which I never do anyway so I don't know why I bother to say it oh God I'm so depressed."
A 'Can Do' Attitude:
Arthur: "Marvin, any ideas?"
Marvin: "I have a million ideas. They all point to certain death."
Trillian: "Marvin… you saved our lives!"
Marvin: "I know. Wretched, isn't it?"
Marvin: "I've calculated your chance of survival, but I don't think you'll like it."
A Strong Work Ethic:
Marvin: "I think you ought to know I'm feeling very depressed."
Trillian: "Well, we have something that may take your mind off it."
Marvin: "It won't work, I have an exceptionally large mind."
Marvin: "Here I am, brain the size of a planet, and they ask me to take you to the bridge. Call that job satisfaction, 'cause I don't."
Marvin: "'Reverse primary thrust, Marvin.' That's what they say to me. 'Open airlock number 3, Marvin.' 'Marvin, can you pick up that piece of paper?' Here I am, brain the size of a planet, and they ask me to pick up a piece of paper."
A Good Education:
Marvin: "It gives me a headache just trying to think down to your level."
Arthur Dent: "You mean you can see into my mind?"
Marvin: "Yes."
Arthur: "Well?"
Marvin: "It amazes me how you manage to live in anything that small."
Marvin: "I am at a rough estimate thirty billion times more intelligent than you. Let me give you an example. Think of a number, any number."
Zem: "Er, five."
Marvin: "Wrong. You see?"
A Positive Approach To Health And Well-being:
Zaphod Beeblebrox: "There's a whole new life stretching out in front of you."
Marvin: "Oh, not another one."
Marvin: "Do you want me to sit in a corner and rust or just fall apart where I'm standing?"
Marvin: "The first ten million years were the worst. And the second ten million: they were the worst, too. The third ten million I didn't enjoy at all. After that, I went into a bit of a decline."
A Keen Interest In Philosophy:
Marvin: "Life? Don't talk to me about life!"
Marvin: "I ache, therefore I am."
Marvin: "Life. Loathe it or ignore it. You can't like it."
There, now don't we all feel like better people already?
See more:
Happy Towel Day: 25 Douglas Adams Quotes To Live By
Poll Results! 10 Greatest British Sci-Fi/Fantasy Novelists
There Can Be No Sequels When An Author Dies
Read More
Filed Under: