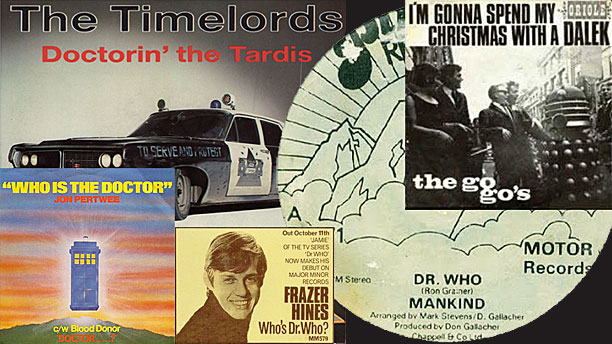 With the announcement that pop music has once again invaded the world of Doctor Who—in the form of the singer Foxes, who will be appearing in Season Eight—it seems a good moment to take a look back at those rare instances when the Whoniverse attempted a counter-attack, in the form of a spin-off (and by spin-off I mean cash-in) single.
Be warned though, some of the music contained herein may not be to your taste, taking the musical form of "just stuff with bits in," this first audio delight being a prime example:
"I'm Gonna Spend My Christmas with a Dalek" by The Go-Gos (1964)
A song that was clearly written by someone who had never seen a Dalek. In fact, it wouldn't be too much of a stretch to suggest it was written by someone who had left a gap at the end of that first line, and waited for a suitable creature craze to come along and fill it. To give credit where it is due, however, this came out only one year after Doctor Who first arrived, so the Go-Gos get points for seizing the moment if nothing else. It is not known whether Daleks enjoy being fed "sugarspice," but one can only assume it does not improve their mood, Christmas or not.
"Who's Doctor Who?" by Frazer Hines (1968)
Four years later, and the groovier Frazer has a pretty creditable stab at a psychedelic pop song, themed around the actor's day job as companion Jamie, opposite the Second Doctor. It's not exactly "Lucy in the Sky with Diamonds," but (and this is really important) it is also not "I'm Gonna Spend My Christmas with a Dalek."
"I Am The Doctor" by Jon Pertwee (1972)
Another four years on, and we have an actual Doctor behind the microphone, recording a version of the Doctor Who theme for Deep Purple's own record label, in which he darkly intones a poem about being, y'know, himself. Genuinely a bit thrilling in places.
"Doctor Who" by Mankind (1978)
ANOTHER four year gap later, and another sci-fi masterpiece. During the disco boom years, every possible musical refrain from "MacArthur Park" to Beethoven's Fifth was set against that floor-filling beat to see if it fit. And this, an actual hit single, is another chance to hear the infinite flexibility of the Doctor Who theme tune.
"Doctorin' The TARDIS" by the Timelords (1988)
Ten long years separated Mankind's journey into the time vortex and this. In some ways, "Doctorin' The TARDIS" seems to be as strange and irrelevant a cash-in on the world of Doctor Who as "I'm Gonna Spend My Christmas with a Dalek," but it's a more complex beast than it first appears, not least because the men who made it (Bill Drummond and Jimmy Cauty of the KLF) claimed it was the car, named Ford Timelord, that had done all the work. Also, there's a rhythmic link made between the riff and siren from The Sweet's "Blockbuster,"  the Doctor Who theme and Gary Glitter's "Rock 'n' Roll Part 2," thereby incorporating the TARDIS into 1970s British glam rock. By which I mean, men dressed in shiny silver costumes and parading around as if they're from another planet… sound familiar at all?
See more:
'Doctor Who' And The Invasion Of The Pop Stars
Greatest 'Doctor Who' References in Pop Culture: Spoofs
11 One-Off Characters from 'Doctor Who' That Deserve a Comeback
Greatest 'Doctor Who' References In Popular Culture: Asides
Read More
Filed Under: