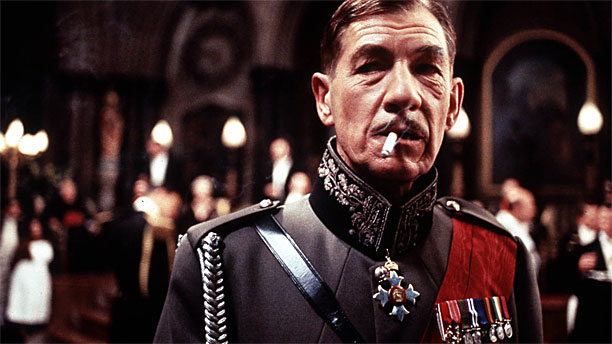 Over the next year or so, both Benedict Cumberbatch and his Sherlock colleague Martin Freeman will be playing the lead in parallel productions of Shakespeare's Richard III. Martin live in London's Trafalgar Studios this fall and Benedict on TV in the second part of the BBC's collection of Shakespeare history plays, The Hollow Crown (due in 2016).
It's a truly iconic role, one that lends itself to an infinite variety of interpretations. As a character, Richard is a rotter through and through, but also capable of pathos, introspection, Machiavellian masterstrokes and sharp comedy.
As you'll see from this collection of interpretations from some of the greatest of British actors, Richard can be hard and brutal, or soft and wheedling. The embodiment of twisted malevolence or a dark soul twisted by circumstance.
Here's how the masters do it, so we're nice and ready for Benedict and Martin:
Sir Laurence Olivier (1955)
https://www.youtube.com/watch?v=pdj6LH-hvsQ
For many years this was the benchmark Richard, a kind of gothic Mr. Punch with a hugely exaggerated hunchback and sharp, pointed features. This film, in which Richard is a grotesque outside but cold and steely inside, was also a huge influence on the early performances of Johnny Rotten in the Sex Pistols.
Sir Ian Holm (1965)
Sir Ian takes a different approach, showing Richard as an emotional man, perhaps even overemotional. His foul deeds are still foul, of course, but to onlookers he will appear overwhelmed by circumstance and therefore above suspicion to all but a few.
Sir Ian McKellen (1996)
An entirely different form of despot again. This time, the politics of the royal court are framed within the rise of fascism, and Richard's frailties are minimized, giving his extreme brutality an even colder edge.
Sir Kenneth Branagh (2002)

Because you can't be an effective king, especially not in a period of extreme upheaval, without the ability to charm your followers. This is Richard played in the way you'd imagine Martin Freeman would do it. An affable character on the outside, cold as the biting winter frost within.
Mark Rylance (2013)
Mark's account of the king is one of an unremarkable man performing unspeakable deeds, his deliberately frumpy appearance and monotone voice accentuating the lack of any sense of guilt at his actions. This is not a cackling monster, but a banal dictator. He remains every bit as chilling as the other Richards, because his actions appear slightly out of character.
See more:
Fraser's Phrases: "Oh My Giddy Aunt!"
WATCH: Dame Helen Mirren Plays Juliet For 10 Seconds
45 Everyday Phrases Coined By Shakespeare
Benedict Cumberbatch WILL Play Hamlet In The West End
Read More
Filed Under: