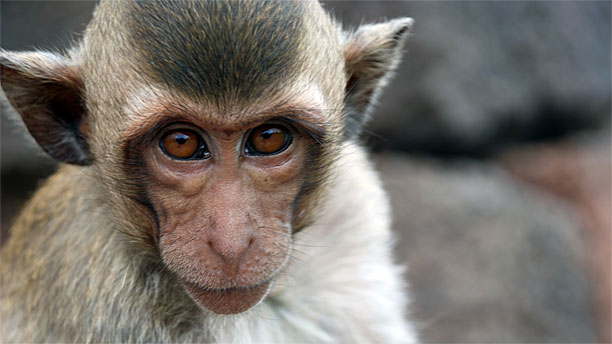 Every town has its own story, its own sports team and a cute nickname for its own citizens. Sometimes these are little more than a twist on the name of the town itself—Mancunians, Bristolians, Dundonians—and sometimes there are extraordinary tales that dominate the way the town is seen from within, and without.
Here are five of the latter sort. Or rather four tales and a great nickname about donkeys we couldn't leave out:
Hartlepool – "Monkey hangers"
There's a funny version of the tale that comes with this nickname, and then a rather bleaker account. The story goes that during the Napoleonic wars, a French ship sank off the coast near Hartlepool, and the sole survivor was a pet monkey in French army uniform. Having seen neither a monkey or a Frenchman before, the authorities put the poor primate on trial as a spy and sentenced it to death, by hanging, from a ship's mast that can still be seen from the beach.
The less-funny version is that there may have been a historical confusion between the term monkey and powder-monkey, which was a commonly-used name for the small boys who were employed on warships to keep the cannons primed with gunpowder.
There's also a theory that it was a monkey after all, but it happened in Scotland.
Leigh – "Lobby Gobblers"
There exists a culinary rivalry between the towns of Leigh and Wigan, both within Greater Manchester. Wigan is best-known for its meat pies, for rugby, and for being the home town of the band the Verve, so Wiganites are often referred to as Pie-Eaters as a result. Leigh is best known for its theaters, being the home town of Buzzcocks singer Pete Shelley, and a dish called lobby, which is a kind of stew made from diced potatoes, onions and corned beef. Hence: Lobby Gobblers, a name that is just as pleasurable in the mouth as lobby itself.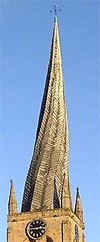 Chesterfield – "Spireites"
The Church of Saint Mary and All Saints in Chesterfield, Derbyshire has the kind of architectural quirks that would be familiar to citizens of Pisa, Italy. By which I mean it has a wonky spire. It twists through 45 degrees and leans 9½ feet from straight.
Naturally there's a colorful tale about this, concerning a blacksmith from Bolsover who did a rotten job fitting a shoe to the devil's hoof, so that a pained Satan leapt up and over the spire, knocking it bandy in the process. The true cause is more likely to be the beams warping under the weight of new tiles, rotten wood being taken off and replaced with with heavier slate and lead.
Whatever the reason, followers of Chesterfield Football Club are known as Spireites, in tribute to this wobbly prong.
Blackpool – "Donkey Lashers"
Another nickname that came out of football rivalries, Donkey Lashers is the derisive term for fans of Blackpool FC, due to the donkeys that tourists can ride along Blackpool beach. They're actually very well treated, so it's not as exciting a story as hanging a monkey, but what a nickname!
Gosport – "Turk-towners"
This is a lovely tale of cross-cultural acceptance to end on. In 1850 two ships from the Turkish Navy—the Mirat-ı Zafer and Sirag-i Bahri Birik—anchored near Gosport, and the crew came ashore for a visit that lasted several months. During that time, an outbreak of cholera took some of the sailors off to the nearby hospital, where they died. Some of their crewmates also died accidentally in training exercises, so by the time the ships were ready to leave, a total of 26 sailors were left behind, buried in the grounds of the hospital (before being moved some years later to the Royal Naval Cemetery, and given appropriately Turkish headstones).
People from nearby Portsmouth, observing all this, dubbed Gosport "Turktown," a name they're actually rather proud of. So there, bullies!
See more:
WATCH: Traffic Stops For Bristol's 300 Foot 'Park & Slide'
Stonehenge is Part of the Longest British Settlement
May Day: The Hills Are Alight With the Fire of Beltane
Should America Adopt the Metric System? A Brit's Take
Read More
Filed Under: