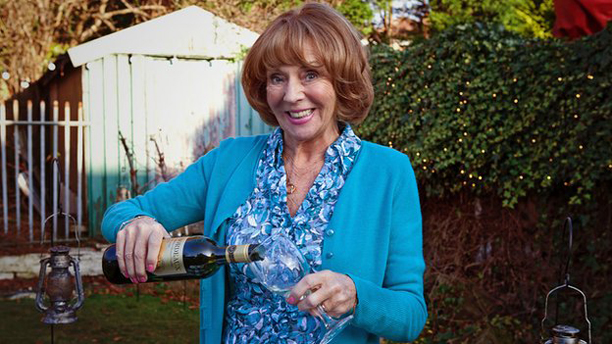 Just because Downton Abbey is on hiatus on both sides of the Atlantic doesn't mean there's no news being made by the hit British series and its cast members.
The latest is word from BBC News and other sources that veteran British actress Sue Johnston, 70, will be joining the period drama for its fifth season. She'll be playing Denker, a maid to the Dowager Countess of Grantham (Maggie Smith). Johnston is familiar to British telly watchers from earlier roles in Coronation Street, The Royle Family and Waking the Dead.
In other new tidbits of interest to Downton fans:
Actress Elizabeth McGovern, who plays Lady Cora on the show, has been cast in Women in Gold, a movie currently shooting in London. The drama, about a woman trying to recover family artworks stolen by the Nazis, stars Helen Mirren and Ryan Reynolds and is being directed by McGovern's husband, Simon Curtis (My Week with Marilyn). According to The Hollywood Reporter, other well-known British actors in the cast include Jonathan Pryce, Charles Dance and Max Irons.
Residents of Bampton, the scenic village in Oxfordshire where many of Downton Abbey's exterior scenes are shot when Crawley family members or their servants head into town, are thanking the show for saving the local library. Carnival Productions, which produces the series, donated £20,000 ($33,480) to Bampton Library, which faced a shutdown after its funding was cut. According to The Express, the gift will cover staffing costs and new furniture. In the show, the library's facade is used as a stand-in for the Downton Cottage Hospital.
Is George Clooney headed to Downton Abbey? There are reports–though none confirmed–that the movie star will wed his British fiancé, human rights lawyer Amal Alamuddin, at Highclere Castle next September. Supposedly, Alamuddin is a major fan of the show, in which Highclere's interiors and exteriors show up extensively as Downton Abbey, the fictional manor house and estate.
According to Hello, Clooney had his pal, Downton star Hugh Bonneville, with whom he appeared in The Monuments Men, arrange a private tour of the castle earlier this month for Clooney and his fiancé. Per the story, Clooney then made inquiries about holding the couple's wedding there.
We're still waiting for our invite.
Downton Abbey's fifth season will begin airing on ITV in the U.K. in September and on PBS in the U.S. next January.
What are you watching during Downton Abbey's hiatus?
See More:
Will 'Downton Abbey' Ever Achieve Simultaneous Transmission in the U.S.
Watch: Ellen DeGeneres Helps Minnie Driver Audition for 'Downton Abbey'
'Downton Abbey': Ten Predictions for Next Season
Read More
Filed Under: