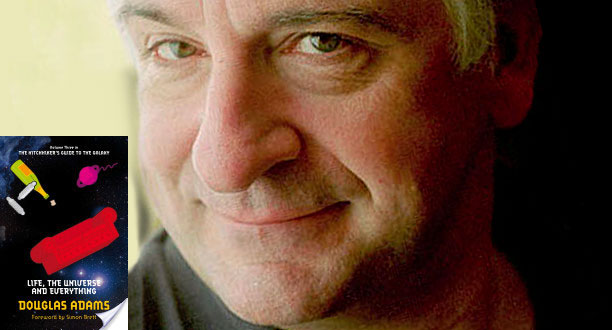 Now here's a story that is precisely five days late.
Having just celebrated Towel Day, the international celebration of the writings, thoughts and imagination of Douglas Adams, it has just been announced that a first draft of his third Hitchhikers Guide To The Galaxy novels has been discovered, and extracts will be published in a new biography.
As part of his research for his book The Frood, Jem Roberts was granted access to Douglas's archive of paperwork, currently on loan to St. John's College, at the University of Cambridge. And he discovered a version of Life, The Universe and Everything that was well over half-way finished, before being abandoned entirely. The version that was eventually released was only written after Douglas started the whole thing again.
Jem told BBC News: "The original version was going brilliantly – he had loads of really funny chapters and scenes – and then he just decided to abandon the whole lot and start from scratch
"The book that we know has exactly the same plot. He'd written a version that was about two thirds of the way through before he abandoned it.
"A lot of people thought it had gone in the bin. But no. The manuscript with about 16 chapters is right there in St. John's College."
The story is broadly the same, but everything else is entirely different, and as fans of Douglas's writing will know, it's in the chuntering exposition that most of the gold is hidden in any case.
Jem will include some of the manuscript in his book, which is due out in September, as well as some deleted scenes from the finished version too: "There are two short extracts, which are very entertaining actually, which were cut from the first book," Roberts said. "They're little asides, maybe a couple of pages each.
"One of them is all about the history of the Dentrassi, who work on the Vogon ships, and there's a bit where Arthur goes on this long reverie about science, which is very out of character for him, which I think is maybe why it got cut."
See more:
Happy Towel Day: Six Life Lessons From Marvin The Paranoid Android
Poll Results! 10 Greatest British Sci-Fi/Fantasy Novelists
There Can Be No Sequels When An Author Dies
Happy Towel Day: 25 Douglas Adams Quotes To Live By
Read More
Filed Under: