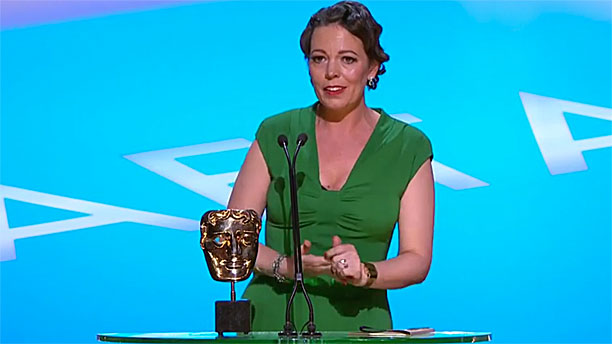 The TV BAFTAs have just finished, and it's been a heck of a year for Broadchurch, and not a bad one for Doctor Who either.
In total, Broadchurch won three awards—best drama, best supporting actor for David Bradley and best actress for Olivia Colman.
Olivia, who melted hearts with her astonishing speeches last year, actually managed to go one better this time, when she became quite teary at the thought of having beaten Helena Bonham Carter to her award. She took the time to credit her other fellow nominees Maxine Peake and Kerrie Hayes, in between large gulps and flappy hands and saying "sorry, not cool."
For his part, David Bradley told the story of the life-sized chocolate BAFTA award his agent sent him a year ago, and that winning a real one means that at last "I can take it down off the mantelpiece and eat it."
The best actor trophy was won by Sean Harris for his part in Southcliffe the tale of a small town shooting, and his acceptance speech was every bit as emotional and fragmented as Olivia's.
Doctor Who won the Radio Times fan vote for "The Day of the Doctor," the only award voted for by TV viewers. And Doctor Who alum Sarah Lancashire won best actress for her role in Last Tango In Halifax.
BAFTA's top honour, the Fellowship, went to Julie Walters, and quite right too. In her speech she looked back at the beginnings of her career with a certain amount of satisfaction, saying: "When I told my mother I wanted to be an an actress in 1969, she said: 'She'll be in in the gutter before she's 20.'
"But what a gutter, and I shared that gutter with some of the most amazing and talented people without whom I would not have a career."
The IT Crowd dominated the two comedy awards, with Richard Ayoade and Katherine Parkinson winning male and female performer trophies respectively. And In the Flesh, currently airing its second installment on BBC AMERICA, won top honors in the Miniseries category. (Watch our red-carpet interview with In the Flesh star Luke Newberry.)
In fact the only downcast face belonged to the show's host Graham Norton, who had been nominated for two awards and won neither. Just after his second disappointment, he quipped: "I remember talking to Olivia Colman last year when she said how happy she felt when she won two awards.
"I feel the opposite of that."
Best of all, due to the perspex podium with the BAFTA mask appearing halfway up, many of the people giving speeches found their outfits had been given an interesting new twist, as Twitter users were not slow to point out:
I don't think they should have made people wear those BAFTA sporrans. pic.twitter.com/WhFyHeq35a

— Danny Wallace (@dannywallace) May 12, 2013
Nice codpiece, Richard Ayoade. pic.twitter.com/xsPWMWycuV

— Mark Savage (@mrdiscopop) May 18, 2014
The winners in full:
Actress: Olivia Colman (Broadchurch)
Actor: Sean Harris (Southcliffe)
Female comedy performance: Katherine Parkinson (The IT Crowd)
Male comedy performance: Richard Ayoade (The IT Crowd)
Supporting actress: Sarah Lancashire (Last Tango In Halifax)
Supporting actor: David Bradley (Broadchurch)
Drama: Broadchurch
Single Drama: Complicit
Miniseries: In the Flesh
Soap and Continuing Drama: Coronation Street
Entertainment show: Ant and Dec's Saturday Night Takeaway
Entertainment performance: Ant and Dec's Saturday Night Takeaway
News coverage: ITV News at Ten (for their coverage of the Woolwich terrorist attacks)
Current affairs: Dispatches (For "Syria: Across the Lines")
Sitcom: Him & Her: The Wedding
Comedy and Comedy Entertainment Program: A League of Their Own
Audience award: Doctor Who: Day of the Doctor
International drama: Breaking Bad
Factual: Bedlam
Features: Long Lost Family
Specialist factual: David Attenborough's Natural History Museum Alive 3D
Special Award: Cilla Black
Fellowship: Julie Walters
See more:
The Evolution of Olivia Colman
13 Common Denominators Between 'Broadchurch' and 'Doctor Who'
Olivia Colman Is The Queen Of The BAFTAs
Anglo Dream Team: Ben Whishaw & Olivia Colman Unite For 'The Lobster'
Read More
Filed Under: