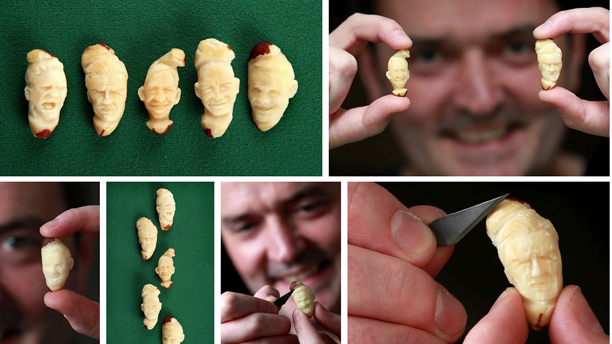 Here's the story in a nutshell: An artist has carved the faces of five famous British football players into Brazil nuts. (That's football as in soccer.)
Dave, a TV comedy channel broadcasting in the U.K. and Ireland, commissioned artist Quentin Devine to make the nutty portraits to hype a trio of soccer-themed specials that will air as a run-up to the World Cup, which kicks off in Brazil on June 12.
The Irish-born Devine made Brazil nut busts of footie legends David Beckham, Gary Lineker, Paul Gascoigne and Alan Shearer, all of whom played starring roles on English World Cup teams in the past. Rounding out the nutter quintet is Wayne Rooney, a star forward for Manchester United who is slated to play in Brazil this summer, which will mark his third appearance on a British World Cup squad.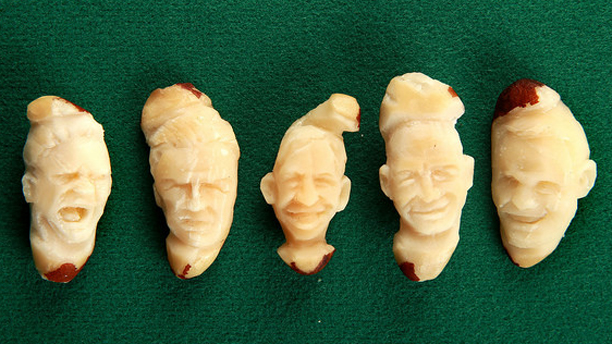 Although he has previously made edible art using eggs, pasta, crackers and more, Devine found Brazil nuts a particularly difficult medium. "The tiny scale of the work was insane and the nuts proved very brittle and oily," he said on his website.
According to a press release, Devine took an average of 96 hours to carve each bust and ran through 53 nuts in total to come up with the five finished busts. His tools included a magnifying glass and a scalpel. And, oh yes, the total cost for materials: 99 pence ($1.66) for a bag of Brazil nuts.
On his Twitter feed, Devine, who lives in Surrey, cracked of the abundant coverage his latest artworks were receiving, "Mom will be proud to see her son holding his nuts in tomorrow's papers."
Do you think this is art or just plain nutty?
See More:
10 Things Brits Do that Drive Americans Nuts
10 Things Americans Do that Drive Brits Nuts
Crafty British eBay Seller Gets £62 for Unique Twigs

Read More
Filed Under: