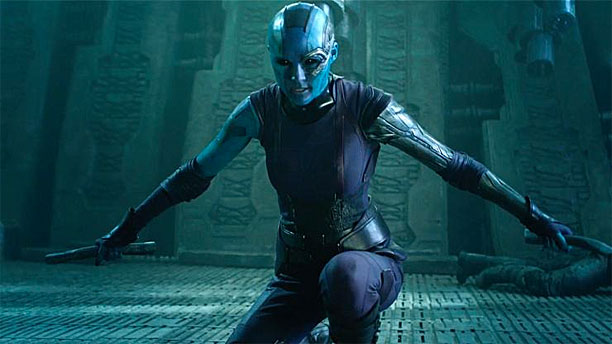 It's going to be a while before we see what happens to the Doctor and Clara, and where they take the TARDIS next. So what is a poor Whovian to do in the meantime? Well there's a host of movies and TV shows on the way this summer that feature some of Doctor Who's key talents doing what they do best.
No time for further explanation. Let's do this:
Peter Capaldi
Before Capaldi claims the reins of the TARDIS, you can find him on BBC AMERICA in the upcoming Musketeers, which premieres on June 22. He plays the "scheming, ruthless, and pragmatic" Cardinal Richelieu.
Gugu Mbatha-Raw
Martha Jones's sister Tish can be seen right now in Belle, the retelling of the story of Dido Elizabeth Belle, the illegitimate mixed race daughter of Admiral Sir John Lindsay.
Billie Piper
Showtime's Penny Dreadful looks set to freak out all but the hardiest of Doctor Who fans—even those for whom the Silence and the Weeping Angels are as scary as a whispered "boo!" in a well-lit room. It starts on May 11, and Billie will be in all eight episodes.
David Tennant
David has two movies on the way, but sadly neither of them will be on general release in the U.S. at present. There's What We Did On Our Holiday, with Rosamund Pike, which comes out in September, and on May 23, British audiences (of a certain age) will hear David's dulcet tones in Postman Pat: The Movie. You'll have no trouble finding his voice in the trailer; he appears almost immediately after the Dalek.
Christopher Eccleston
https://www.youtube.com/watch?v=Shn1mPejr_4
The Leftovers begins on a chilling idea: what if 2% of the world's population disappeared? How would humanity interpret that? It's not immediately clear from the trailer alone what part Christopher has to play in HBO's latest high-concept TV series, which begins on June 29, but it's going to be fun finding out.
Karen Gillan
No prizes for remembering that Karen will be showing off that shiny skull of hers as Nebula in Marvel's Guardians of the Galaxy on August 1. It's the kind of visual image that lingers in the mind.
John Hurt
https://www.youtube.com/watch?v=5w0KAHhKECg
If you were making a film of the adventures of Hercules, starring Dwayne 'The Rock' Johnson and turning the epic dial up so far it snaps, you'd want John Hurt in there too. The adventure begins on July 25.
But if you can't wait that long, get over to the CW on May 22, to see John in the fantasy miniseries Labyrinth, based on the best-selling novel by Kate Mosse:
And here are three more to keep your eyes out for, later in the year:
Matt Smith in Lost River, the film HE cut all his hair off for; Catherine Tate in Nativity 3: Dude Where's My Donkey, following in David Tennant's Nativity 2: Danger in the Manger footsteps and Arthur Darvill in Penguin, a movie about a two-feet tall puppet penguin.
See more:
Big News! Matt Smith Goes from the TARDIS to 'Terminator'
Why 'Doctor Who' Didn't Show Christopher Eccleston In The War Doctor's Regeneration
The Poetry of 'Doctor Who'
'Doctor Who' Star Karen Gillan Scores Lead in ABC Sitcom Pilot, 'Selfie'
Read More
Filed Under: