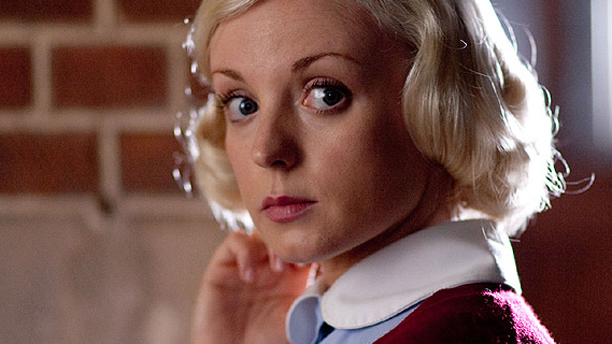 They were bringing in the sheaves on Call the Midwife's latest episode (Season Three, Ep. 6). But not to worry. The nurses and nuns at Nonnatus House in London's East End haven't given up midwifery for farming.
Rather, they all join in for a symbolic, end of summer Harvest Festival orchestrated by Tom Hereward (Jack Ashton), the handsome young curate who recently moved into Nonnatus House. The celebration is capped by a meal at which Sister Winifred (Victoria Yeates), after much comic trial and error in front of the oven, triumphantly serves up a gorgeous, freshly basked, holiday-approriate bread loaf shaped like a sheaf of wheat.
Celebrations aside, the episode's main mission was to flesh out and deepen for viewers the character of midwife Patsy Mount (Emerald Fennell), the nurse-midwife who's the latest addition to Nonnatus House. Her curt, unfriendly way with patients–"Could all mothers keep their children under control?" she yells out at the clinic–gets Patsy temporarily booted off midwife duties and assigned to visiting nurse rounds by Sister Julienne (Jenny Agutter).
One of Patsy's visiting nurse patients turns out to be a middle-aged laborer, Maurice Glennon (Neal Barry), who's confined to bed rest with a variety of major aches and pains. No one can figure out what's wrong with the man until Patsy, spotting scars on his legs, realizes that they come from leg irons and intuits that he was a POW during WWII. Maurice confirms that he was indeed a POW in Burma, where he served as a forced laborer building a railroad. Long story short: he's suffering from a tropical disease contracted there that has lain dormant in his system all these years.
How did Patsy know to recognize the scars? It turns out that she was a 9-year old living with her family in Singapore when WWII broke out. Patsy, her mother and sister were placed in a Japanese internment camp, where they experienced torture and starvation. Only Patsy survived. The experience both hardened her and inspired her to become a nurse, having helped out at the makeshift hospital in the prison camp. "I'm sorry if people thing I lack compassion," Patsy says. "But in the hell that I grew up in, what was important was what you did, not some great show of emotion and sympathy."
In other developments on the show:
Chummy Noakes (Miranda Hart) gave free reign to her cheery bossiness, upbraiding her policeman husband, Peter Noakes (Ben Caplan), for issuing a citation for a parking violation against the Nonnatus House bus. And, while instructing expectant mothers on the basics of diapering, she helpfully announced, "The first objective is to avoid jabbing the pin into young sir or, of course, young madam." Spotting one of her students accidently pricking herself with a safety pin while trying to fasten a nappy, Chummy adds helpfully, "While also avoiding injury to one's self."
Trixie Franklin (Helen George), Nonnatus House's resident glamour puss, dreamed of drinking gin martinis aboard a yacht with Rock Hudson (little did she, or most movie fans at the time, know how uninterested he would be in her romantically). She settled, however, for accepting a date for a cricket match with Tom, the curate cutie. While Trixie had visions of attending a chic, uppercrust match, the actual date turned out chaperoning a bus full of noisy Boy Scouts as Tom drove the vehicle to an out-of-town youth game. When one of the boys copiously pukes and then the bus breaks down on a country road, the date turns decidedly disastrous.
Tom remains cheerful throughout and Trixie proves more of a trouper than one would have expected, hiking a mile in her stocking feet to the nearest phone box to summon help. It was clear by episode's end that, despite this inauspicious beginning, these two will be seeing more of each other.
When not dating Tom, Trixie, aided by Cynthia Miller (Bryony Hannah), was helping a young, unmarried Irish couple (Amy Molloy and Killian Scott) newly moved to London and expecting their first child. The young mother-to-be is Protestant and her mate a Catholic (or is it vice-versa?) and the two eventually wed, though not in a church. Soon after, their son is born with what seems like possibly threatening medical complications. The husband, knowing it will mean everything to his bride, runs to Nonnatus House to summon Tom, who hurriedly baptizes the infant before he is rushed off to the hospital.
One of the season's running story lines, the infertility woes of former nun Shelagh and Dr. Patrick Turner (Laura Main and Stephen McGann), comes closer to resolution as she suggests to him that they consider adoption. The couple gets the okay to go ahead for an adoption from the previously widowed Patrick's young son, Timothy, and Shelagh finds an adoption agency willing to work with them. When Patrick balks at the huge pile of required paperwork that she brings home from the agency, Shelagh turns all stern nun on him: "Patrick, we're filling out these forms tonight!" she declares.
And what of Sisters Julienne, Evangelina (Pam Ferris), Monica Joan and Winifred? The nuns functioned mainly as minor supporting characters in this episode, with the exception of Winifred's baking woes and dotty Sister Monica Joan (Judy Parfitt) showing off a heretofore-unknown passion for astronomy.
Midwife Jenny Lee (Jessica Raine) continued to be MIA. She is apparently still residing at the Mother House, the nuns' retreat center, where she's dealing with her grief over the earlier tragic death this season of her architect beau.
What was your favorite part of the episode?
Read More
Filed Under: