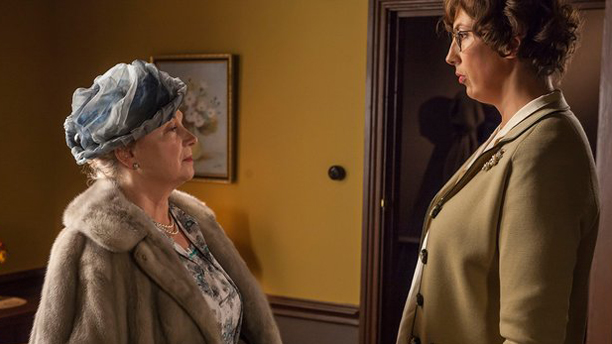 The latest, deliciously crammed episode (Season 3, Ep. 7) of Call the Midwife skillfully, and poignantly, interwove multiple stories that were, at their center, about creating a home or coming back to one.
As with the best episodes of this British series (which ends its season next week on PBS), it deftly portrayed the overlapping lives, both professional and personal, of its nurse and nun midwives and the patients whom they serve.
The episode began with Jenny Lee (Jessica Raine) returning to Nonnatus House after a prolonged absence during which she grieved over the death of her architect beau earlier in the season. She is warmly welcomed back, even by the normally gruff Sister Evangelina (Pam Ferris), who gushes, "You've been missed. Greatly!"
Rather than return to neighborhood nursing with the other midwives, Jenny opts to do a turn of duty at a newly opened maternity wing in a hospital. "This way no one will ask how I am and no one will feel sorry for me," she says.
The hospital turns out to be a wonder of modern medical efficiency but lacks heart. Jenny, who is used to becoming enmeshed in her patients' lives, is put off by the hospital's strictly business approach. After breaking the rules by sneaking a newborn infant in to see its desperate mother, whom she has befriended, Jenny gives her notice and says she's returning to district nursing. "I need to care. I can't ration it. That'll never be my way," she tells the head nurse.
Upon informing her fellow nurse-midwives at Nonnatus House that she's coming home in all senses of the word, Jenny enumerates what she missed: the East End, the endless cups of tea, hefting her equipment bag and riding her bike over Poplar's cobblestones. "And us?" asks Trixie Franklin (Helen George), indicating herself and fellow midwives Cynthia Miller (Bryony Hannah) and Patsy Mount (Emerald Fennell).
"I missed you most of all," Jenny says, going for a group hug.
Chummy Noakes' (Miranda Hart) happy home is turned upside down by the arrival of her mother, the titled and snobby Lady Browne (Cheryl Campbell, of Pennies from Heaven and Chariots of Fire). Mom is back from Madeira, having been shed by her husband ("Your father has many interests. I'm not one of them," she tells Chummy).
Chummy invites her mother, who clearly is without funds, to come live with her, policeman husband Peter (Ben Caplan) and baby Fred in their cramped East End apartment. Chummy frantically cleans up to impress Mom, stowing a tacky ceramic cat in a cabinet because she knows Lady Browne would disapprove.
After a number of scenes in which Lady Browne proves herself incapable of showing warmth or motherly love to either Chummy or little Fred, Chummy finally loses it. The inciting incident? Lady Browne asks Peter if he is registering toddler Fred for a posh school. Peter informs Lady Browne that he loves his young son but won't be able to afford to send him off to an elite boarding school. "One cannot survive on love," sniffs Lady Browne.
That's it. Chummy snaps. "One cannot survive without it," she tells her mother. "We could scrimp and save and possibly send him away. We could have him raised by cold and distant people who would want him to be cold and distant so he didn't cry himself to sleep. But despite what you so clearly think of us, we believe we'll give him the best start because he'll know he's loved."
With that, Chummy heads to the cabinet and fetches out the tacky ceramic cat. She restores it to a place of honor on the mantle piece. Then she tells her mother that maybe she'd be better off in a hotel.
Fast forward to Lady Browne preparing to leave Chez Noakes and showing, for the first time, a little tenderness toward her grandson. Peter tells her maybe they can work things out after all. She collapses and coughs up green bile. It turns out she's riddled with cancerous tumors and the end is near. As she lies dying on a hospital bed, Chummy and Peter sit vigil by her bedside, holding hands with each other.
In the episode's other storylines:
Dr. Patrick Turner (Stephen McGann), who now is shown smoking a cigareete in nearly every scene, has been harboring a big secret. He is forced to admit during an investigation into his and wife Shelagh's (Laura Main) fitness as prospective adoptive parents that he was a patient in a psychiatric hospital for five months during WWII. "I was worn out. There was too much death. I recovered," he says, then hastily corrects himself: "I'm recovered."
The investigator from the Adoption Society snippily tells the couple she can't place a child in a home lacking truth and trust. Shelagh is devastated and asks her husband why he never told her about his time in the bin. He says he can't talk about it, even now. "I won't live with this between us," Shelagh tells him. "How can you treat others when you so clearly cannot treat yourself?"
Sister Julienne (Jenny Agutter) questions her role as a midwife, wondering if she's become too old and out-of-step for the times. Her self-doubts are triggered after a young new mother, Pamela Saint (Sophie Rundle), announces that she doesn't want the nun anywhere near her or her new baby.
It turns out that Pamela is suffering from post-partum psychosis, partly due to hormonal surges from the pregnancy, and depression. (Dr. Turner eventually makes the diagnosis). When Pamela climbs atop a ledge alongside a river and threatens to jump in with her baby–she keeps mumbling about how the baby needs to be clean–Sister Julienne literally talks her off the ledge.
Pamela is packed off to a mental hospital, where she undergoes electric shock treatment. Sister Julienne faithfully visits her and eventually succeeds in persuading Pamela's reluctant husband to visit with their baby. After a long stay, Pamela recovers and is released. She and her husband head home with their baby through the streets of the East End.
In the episode's most light-hearted subplot, Tom Hereward (Jack Ashton), the handsome new curate, asks Trixie for another chance after their disastrous date in the previous episode. She suggests that they go dancing but Tom cancels on her at the last minute, pleading that a parishioner needs his help.
He lied. Tom can't dance and didn't want to admit it. Nonnatus House's resident handyman, Fred Buckle (Cliff Parisi), and Patsy take Tom him in hand, or in arm in Patsy's case, and teach him to dance. Trixie spots Patsy and Tom together and gets the wrong idea but Patsy quickly clears the air. "With the greatest respect, Tom is not my type," Patsy tells her.
Fred also does his best to push Tom and Trixie back together. "He's mad about you, Nurse Franklin," Fred tells her. "He's got potential, hidden, but still there."
Trixie gives Tom another chance and the two head to a local bar with dancing. Outside the doors, Tom balks and starts babbling about being afraid he'll step on her toes. "Do be quiet," Trixie says as she reaches for him. "There are just some things you have to stop thinking about and just start doing."  They dance together in the alleyway to the music coming from the bar.
Just one more episode to go …
What was your favorite part of the episode?
See More:
'Call the Midwife' Recaps for Season One and Two
What's in Store for the Cast of 'Call the Midwife'?
'Call The Midwife's Jessica Raine: "'Doctor Who' Is Magical"

Filed Under: