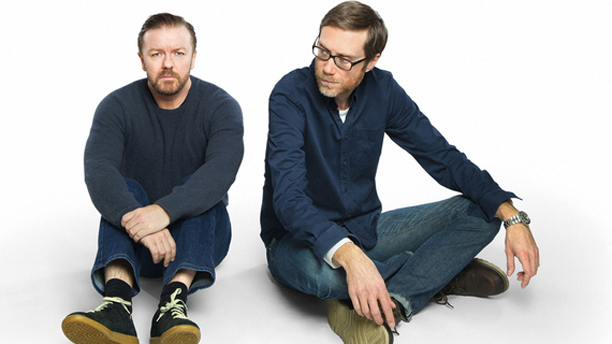 Ricky Gervais could be considered an acquired taste—people can take him or leave him—and he seems to be just fine with that. He doesn't shy away from controversial subjects, as seen in his latest project Derek, which premieres its second season on Netflix today (May 30).
Some find it hard to wrap their mind around the mockumentary-style show, thinking Gervais is making fun of the childlike lead character, a care worker in a nursing home. But Gervais never puts a diagnosis or label on Derek. He's just Derek. He's sweet, always the first one to offer up his help, and possibly a bit naive. Gervais has the best intentions and defends the title character saying, "He's cleverer than Father Dougal, and not as different as Mr. Bean." Gervais recruited his friend Karl Pilkington, who also stars in HBO's The Ricky Gervais Show, to play the nursing home's caretaker, Derek's best friend. In the second season Derek is faced with new situations like his father signing up for online dating.
In addition to Derek, here is a look at Gervais and his friends' work available online:
1. The Office
Gervais recently joked with Jimmy Kimmel saying, "People think I ripped off Steve Carell," referring to the American version of The Office. He goes on to say that some people refer to his show as, "The original Office," while he just simply calls it, "The Office." Oh Ricky, we know you were first. Gervais co-wrote The Office with real-life friend Stephen Merchant, and stars as paper company middle manager David Brent, who means well but really just tries too hard. The ensemble cast includes Sherlock's Martin Freeman and Pirate of the Caribbean's Mackenzie Crook.
2. Extras
Gervais takes on the role of Andy Millman, a film extra who has stars in his eyes. His agent, played by Merchant, is utterly incompetent. Millman keeps his head up with the help of his friend and fellow extra Maggie Jacobs (Ashley Jensen). The two struggle through long, thankless days, but make their own fun during the downtime. Every episode of Extras features an unexpected guest star, with a long list of familiar faces including David Tennant, Kate Winslet, Daniel Radcliffe, Warwick Davis, Ian McKellen.
Watch Extras on Amazon.com Instant or Prime.
3. The Ricky Gervais Show
Gervais and Merchant had so much fun with their pal Karl Pilkington when he worked as their producer on a radio show, that the two of them sat down with Pilkington and created a podcast. The podcast is just them chatting, but having a ton of fun while they're at it. That podcast was in turn animated by HBO. This is the end result.
Watch The Ricky Gervais Show on iTunes (FREE).
4. An Idiot Abroad
Gervais and Merchant can't get enough of Pilkington and his humorous commentary, so they send him around the world. Pilkington begrudgingly visits the Seven Wonders, and while he's not too keen on his accommodations or the trek it takes to get to his destinations, his journey is laugh-out-loud funny to watch. By the way, Pilkington is not an idiot by any means; the name is actually used as a term of endearment by his mates. Friend Warwick Davis (Life's Too Short) shows up in the third season to keep Pilkington company.
Watch An Idiot Abroad on Netflix.
5. Life's Too Short
Gervais and Merchant must really like each other, writing yet another series together, but this time around the guys take the backseat and Warwick Davis steps into the starring role. Davis is typically recognized from his title role in Willow, starring opposite Val Kilmer. Gervais describes the show as, "A cross between Extras and The Office," being a mockumentary set in the world of media. Warwick plays a working actor, but the roles aren't coming through as quickly as he'd like, so he takes matters into his own hands. Kilmer makes a cameo as himself—dressed up as Batman. Gervais and Merchant also pop up here and there.
Watch Life's Too Short on Amazon.com Instant.
What's on your playlist?
See More:
Watch: Ricky Gervais in the New Series Trailer for 'Derek'
What is Ricky Gervais Doing NOW?
Twitter Poll: Who's Better Looking … Ricky Gervais vs. Johnny Depp
Read More
Filed Under: