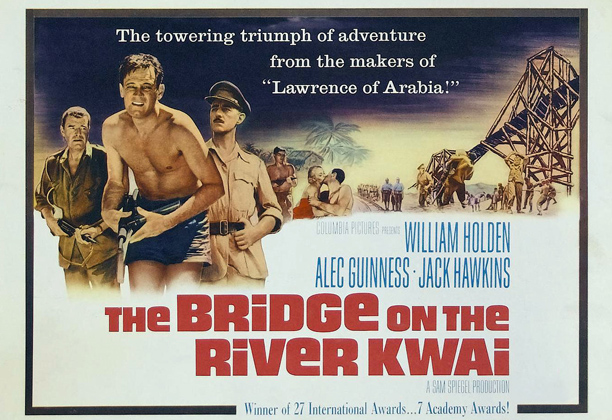 Memorial Day, May 26, honors the men and women who lost their lives while serving in the military. (The U.K.'s Remembrance Day is recognized on November 11.) Individuals have their own way of paying homage, whether it be wearing a remembrance poppy, or visiting a grave of a fallen soldier. We'll play our small part in dedicating this week's Brit Binge to British films revolving around the hardships during wartime and post-war:
1. The Bridge On the River Kwai
Based on Pierre Boulle's French novel, this 1957 WWII film revolves around British prisoners of war building the Burma Railway from 1942 to 1943. The film stars William Holden, Jack Hawkins, Alec Guinness and Sessue Hayakawa.
Watch The Bridge on the River Kawi on iTunes.
2. The Boy in the Striped Pajamas
A German Nazi officer's 8-year-old son (Asa Butterfield) befriends another boy about the same age who is being held in a concentration camp during WWII. The film, based on Irish writer John Boyne's novel of the same name, also stars David Thewlis and Vera Farmiga.
Watch The Boy in the Striped Pajamas on Amazon.com Instant.
3. The Lion Has Wings
This 1939 drama was made at the outbreak of WWII and comes across as a documentary-like film. The film uses actual newsreels, combined with scripted scenes, to tell the fictional story of life during wartime revolving around senior Royal Air Force officer (Ralph Richardson) and his wife and family.
Watch The Lion Has Wings on Hulu.com.
4. Tinker Tailor Soldier Spy
In this espionage film, which takes place during the Cold War, British intelligence suspects there is a mole within the agency. The highers-up recruit Peter Guillam (Benedict Cumberbatch) to head the hunt and sniff out the mole. Cumberbatch is part of an all-star ensemble led by Gary Oldman and including Colin Firth, Mark Strong, Toby Jones and Ciarán Hinds.
Watch Tinker Tailor Soldier Spy on Amazon.com Instant.
5. Atonement
Based on Ian McEwan's novel by the same name, James McAvoy and Keira Knightley play young lovers who are separated during WWII. The film spans six decades, also starring Saoirse Ronan, Romola Garai, and Vanessa Redgrave.

Watch Atonement on Amazon Instant.
What are your plans for Memorial Day weekend? 
See More:
Snapshot: 10 Heartening Photos from the WWI-Themed Chelsea Flower Show
10 Famous Brits Who Were Heroes In World War II
Read More
Filed Under: