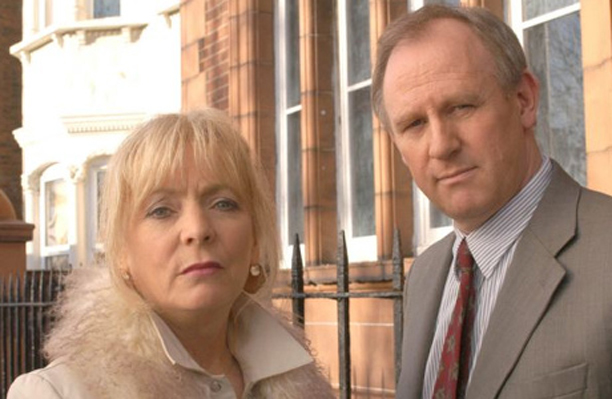 We all have our favorite British TV programs, whether it be Doctor Who, AbFab, Gavin and Stacey, The IT Crowd, Doc Martin, Black Books, Sherlock, Downton Abbey … (whew, take a breath) the list could go on for ages. But there's more out there. Lots more. And where is this British treasure trove you ask? These little-seen Brit gems are readily available at your fingertips, streaming online. Of course, you may know all of these, but hopefully one or two will come as a surprise. At the least, you can use the below as "bragging rights" to your other Anglophile friends. Dive into the list below:
1. The Last Detective
Doctor Who's Peter Davison takes on the role of Detective Constable "Dangerous" Davies in this ITV series. Davies finds himself unjustly demoted after testifying against a corrupt cop. He's typically the last detective assigned to major cases, but he doesn't let it sway him.
https://www.youtube.com/watch?v=Gve2X025094
Watch The Last Detective on Acorn TV.
2. Spy 
Sky 1's comedy is pretty much what not to do when working as a member of British intelligence. Tim, played by Darren Boyd (Whites), is looking for a new job, with the hopes of his impressing his fickle son Marcus (Jude Wright). After literally walking through the wrong door, he mistakenly finds himself sat in front of a bunch of MI5 agents. Tim manages to get the job based on his "coy" answers. The higher-ups realize their mistake, but it's too embarrassing to admit the mishap, and everyone just goes along with it. The Wrong Mans' Mathew Baynton co-stars as Tim's best mate and only confidant.
3. Whites
BBC Two's Whites takes place in a country hotel kitchen, made up of an ensemble cast led by Alan Davies (Jonathan Creek). Davies portrays Roland White, a head chef who was on his way to being a top chef, but missed his opportunity. Somewhat defeated, he pushes most of the workload onto his sous chef and best friend Bib, played by Darren Boyd (remember Boyd from above, he also stars in Spy.) Other familiar faces include The It Crowd's Katherine Parkinson and Peep Show's Isy Suttie.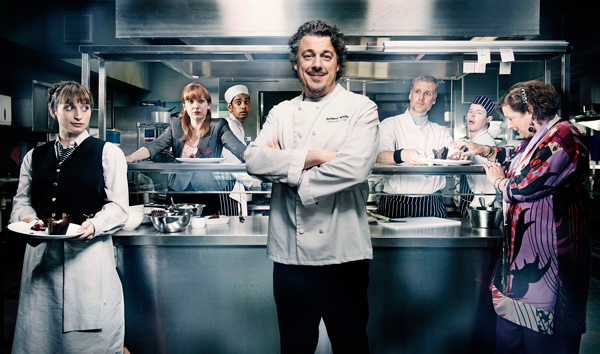 4. Blandings
Timothy Spall (Harry Potter) and Jennifer Saunders (Absolutely Fabulous, French and Saunders) team up in the BBC One adaptation of P.G. Wodehouse's Blandings Castle stories. The series follows the misadventures of a quirky aristocrat, his eccentric family, and the rundown ancestral home they share. If you've seen season one, Acorn just added the exclusive premiere for series two.
5. Pramface
BBC Three's Pramface is the U.K.'s version of MTV's Teen Mom, but thankfully it's scripted. Two teenagers, Laura (Scarlett Alice Johnson) and Jamie (Sean Michael Verey), drunkenly meet at a party, hook up, and a few weeks later Laura finds herself pregnant. The series revolves around the expecting parents and their respective families preparing for the baby's arrival. ("Pram" translates to baby carriage in the U.S. What does pramface mean? Well, we'll leave that to the online dictionaries.)
6. Garth Marenghi's Darkplace
This dark, surreal and deeply bizarre spoof tells the story of Garth Marenghi (Matthew Holness), a horror author and filmmaker who created and starried in his own original sci-fi medical series, Darkplace, back in the 1980s. However, the results were too "radical" to be aired at that time. But it arrives as a "show-within-a-show" in this 2004 British series, with commentary from "the cast and crew" of Darkplace. Keep an eye out for The It Crowd's Richard Ayoade.
Watch Garth Marenghi's Darkplace on Hulu.com.
7. Blue Murder
ITV's female-driven detective series stars Caroline Quentin (Men Behaving Badly) as a homicide detective in Manchester, England. Her dangerous job is especially risky with her being the only parent to look after her four children.
Watch Blue Murder on Acorn TV.
8. Crimson Petal and the White
Chris O'Dowd (Moone Boy, Bridesmaids) and Romola Garai (The Hour) star in the BBC Two mini-series set in Victorian London. Garai portrays a desperate, yet clever, prostitute who puts some sort of spell on a well-off perfume business heir (O'Dowd). Other familiar faces include Mark Gatiss (Sherlock), Richard E. Grant (Girls) and Gillian Anderson (The Fall).
Watch Crimson Petal and the White on Acorn TV.
9. White Teeth
Channel 4 adapted Zadie Smith's best-selling novel White Teeth into a four-part miniseries. The story revolves around two north London families, headed by Archie Jones (Philip Davis) and his longtime friend Samad Iqbal (Om Puri). The two men met while serving together in WWI. White Teeth takes on big themes like race and faith—but it's actually a comedy.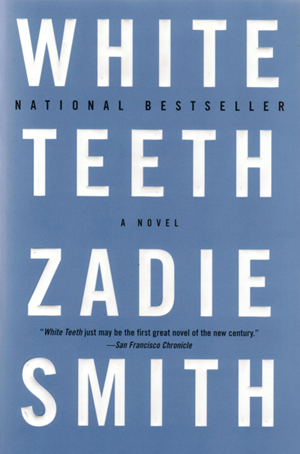 Watch White Teeth on Hulu.com.
10. Wild at Heart
ITV's Wild at Heart revolves around a newly blended British family who picks up and moves from Bristol, England to an animal reserve in South Africa. Upon arrival, the father (Stephen Tompkinson), a veterinarian, sets up shop, restoring a surgical animal hospital, making it a family business. Acorn has all seven seasons available.
Watch Wild at Heart on Acorn TV.
What do you think, any surprises? 
See More:
Brit Binge Watching: Five Dark Comedies You Can View Online
Brit Binge Watching: Five Detective Dramas You Can View Online
What Are Brits Watching? 
Read More
Filed Under: