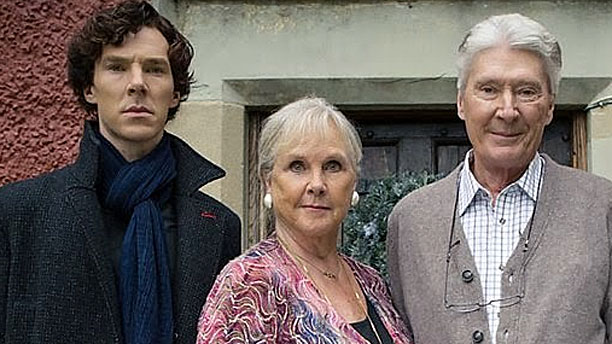 This is just advance warning: next week we'll be bringing you some footage that might cause involuntary head-tilts, raised pulses and the irresistible urge to hug someone, while buying flowers.
Benedict Cumberbatch will be helping the BBC to launch their coverage of this year's Chelsea Flower Show next Monday (May 19), with a little assistance from his mum, Wanda Ventham.
The pair join presenters Monty Don and Joe Swift to discuss their own memories of the garden show, which is organized by the Royal Horticultural Society and held every May in the grounds of the Royal Hospital Chelsea in London.
The show is always a big talking point, with gardeners taking enormous pains to create great displays of their horticultural handiwork. And I'm sure we'll find out exactly what the nature (no pun intended) of link between Benedict, Wanda and the show may be on Monday.
Meanwhile, it's been announced that Benedict's portrayal of the British mathematician Alan Turing in The Imitation Game will be released to U.S. cinemas on November 21, a week after the British release of the film. The movie also stars Keira Knightley, Mark Strong, Allan Leech and Matthew Goode.
And in other Sherlock-related news, particularly given the Sir Ian McKellen Holmes movie on the way, Doc Martin star Martin Clunes has been signed up to play Sherlock's creator Sir Arthur Conan Doyle in a new ITV drama. Arthur & George is an adaptation of the Julian Barnes novel, itself based on real life events, in which Sir Arthur tries to clear the name of George Edalji. George had been sent to prison after being found guilty of a spate of livestock attacks in Great Wyrley, Staffordshire in 1903.
See more: 
10 British Acting Families (Who Are Not the Redgraves)
Martin Freeman Teases A One-Off 'Sherlock' Special
Cumberbatch: 'I'm Never Gonna Play the Doctor'
Benedict Cumberbatch's Great-Great-Uncle Was Tried For Murder
Read More
Filed Under: