Matt Damon and Ben Affleck? So 1997. Brad Pitt and George Clooney? Yeah, to the left. The Europeans have arrived to perfect the modern art of bromance, raising the bar on the craft of platonic, same-sex bonding.
Few pairs can lay greater claim to the title "Best Bromance" than those British acting legends and geek gods, X-Men co-stars Sir Ian McKellen and Sir Patrick Stewart. New Yorkers have watched in delight as the two knights—in town for a stint on Broadway together—gallivanted around the city, bopped about in bowler hats, and played the part of wide-eyed tourist. (Take a look of their NYC experience in a gallery of joyous selfies. If you're having a bad day, it's a pretty effective pick-me-up.)
Christmas Tree! #gogodididonyc @TwoPlaysInRep pic.twitter.com/xgaaU6m6kq — Patrick Stewart (@SirPatStew) December 11, 2013
Liberty! #gogodididonyc 14 shows left! pic.twitter.com/oP5PdOvkDE — Patrick Stewart (@SirPatStew) March 20, 2014
But their bond has some competition from two stars who just so happen to play the younger versions of their X-Men characters. The budding bromance of German-Irishman Michael Fassbender (Magneto) and Scotsman James McAvoy (Professor X) has been on the radar of Tumblr admirers and fan-fiction authors for a while now, but now they don't just belong to us anymore. Their partnership is going truly mainstream.
On this week's Graham Norton—airing Saturday (May 10) at 11:15 pm ET— you can watch FassAvoy (or McBender, if you're nasty) in action. No, not that way, you dirty birds. But, admittedly, we did think a few unpure thoughts watching Fassbender, McAvoy, and X-Men castmate Hugh Jackman jumping off Graham's couch to groove along to some "Blurred Lines." Well, watch. I know you want it, indeed.
(By the way, Sirs Ian and Patrick aren't so bad at hoofing it themselves.)
But…there's more. Like McKellen/Stewart, there's photographic evidence of a long-standing bromance here. If Sirs Ian and Patrick are the types to make a madcap dash to the top of the Empire State Building, FassAvoy are the fellas tucked into a corner of a smoky saloon, cigars skyward.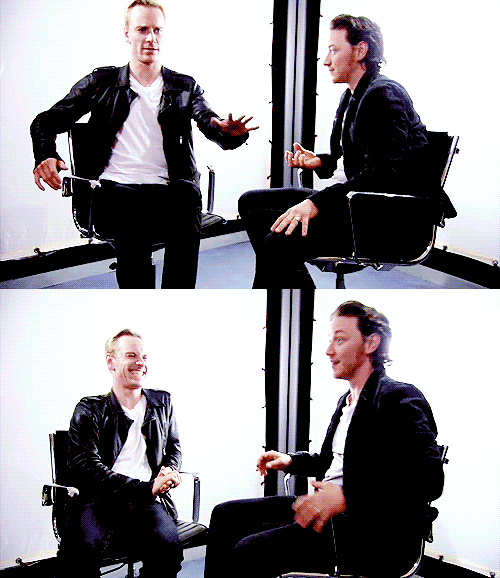 FassAvoy Forever!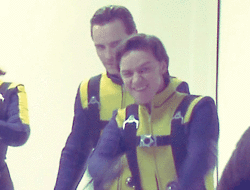 Who do you ship, Fassbender/McAvoy or McKellen/Stewart?
See more:
James McAvoy, Hugh Jackman and Michael Fassbender Attempt Impersonations of 'X-Men' Castmates
PHOTOS: Benedict Cumberbatch and Michael Fassbender's Wild Golden Globe Weekend
PHOTOS: Patrick Stewart, Ian McKellen, James McAvoy, Nicholas Hoult and Michael Fassbender in 'X-Men: Days of Future'
Read More
Filed Under: