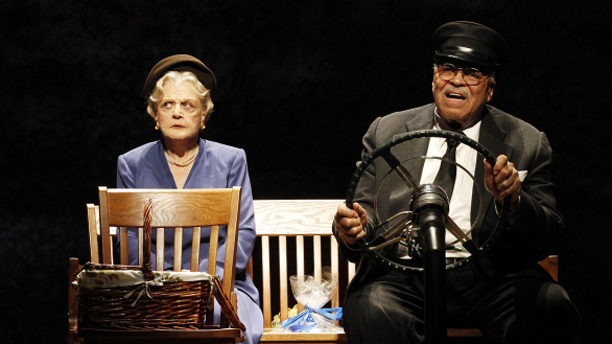 Angela Lansbury, 88, loves that she's able to turn back the clock on stage all the way to age 72.
"The great thing about theatre, you see, is that it's all about illusion," the London-born actress told The Guardian while promoting the film version of a stage production of Driving Miss Daisy, in which she toured with James Earl Jones in Australia last year. "At my age, I simply can't get away with playing a 72-year-old woman like Daisy in the movies. But on stage, with make-up, I can. So the theatre, really, is the only place older actresses can still work."
Here's a trailer:
Lansbury said a highlight while she and Jones were touring Down Under was her time in Perth, where she reunited with relatives who'd emigrated from London in the 1950s to Australia. She also loved performing the show at Perth's historic His Majesty's Theatre, which was built in 1904 and features a Museum of Performing Arts downstairs.
"His Majesty's is a perfect theater: standing on that stage seemed to echo the days of the great English actors who toured to Australia in the 1930s and '40s," Lansbury told the Guardian. "We went down to the basement and saw that many of them had signed their names on the bricksVivien Leigh, Robert Morley, Laurence Olivier. Naturally, I had to add my own name."
The Lansbury-Jones production of Daisy was filmed while the duo performed the show at the Comedy Theater in Melbourne. The filmed version will be shown in theaters in the U.K. this Sunday (May 25), followed by a live Q&A session with Lansbury about Daisy and the rest of her long, distinguished career. The interview will originate from the British Film Institute in Southbank, London. (For more information on U.K showings, click here.)
Daisy will also screen in select U.S. theaters from June 4 through June 10 under a program known as Broadway Near You. For a list of theaters and to buy tickets, click here.
Do you want to see Angela Lansbury in Driving Miss Daisy?
See More:
There is Nothing Like a Dame: Angela Lansbury Meets the Queen
Angela Lansbury Makes Her Return to the West End
Angela Lansbury on 'Manchurian Candidate' and Elusive Film Stardom
Read More
Filed Under: