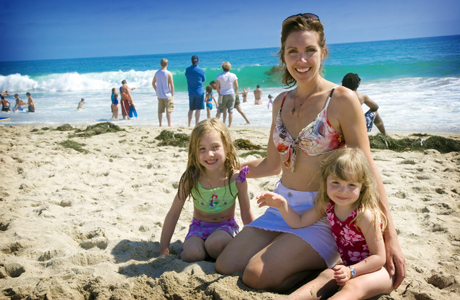 If you're vacationing in the U.S. in the summer, it might well involve a beach. Not only are there beaches around the edges (and off the mainland in Hawaii), but because this country has thousands of inland lakes, there are tons in the middle too. Chicago, for example, is situated on Lake Michigan's shores and with very popular city beach right downtown.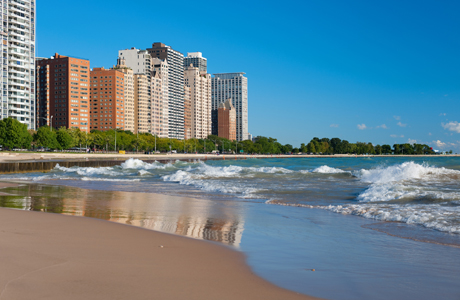 And yes, American beaches can be a little different from what we're used to in the U.K. Some of them, like the one above, are on fresh water lakes, so while it doesn't quite smell like a real beach, you also don't get salt in your eyes and mouth, and while there are freshwater jellyfish, there's a merciful lack of the type that sting like a you-know-what.
Many beaches are staffed with lifeguards, and beach-goers are expected to abide by the (usually) posted rules. On some beaches, you may only swim when lifeguards are present. You will also find you're often not allowed to swim with flotation devices other than Coast Guard approved flotation devices; airbeds, gigantic blow-up animals and anything else that can take you out onto the open water are often banned.
If the lifeguards tell you not to go in because of rip tides, you should heed the warning if a) you don't want to get yourself arrested, and b) you want to live to see another day. According to the Red Cross, rip tides are responsible for most lifeguard rescues each year, and lead to many deaths.
Many U.S. beaches are regularly tested for contamination, and if the water is found to contain yucky stuff, the beach will be closed until further notice. Obviously, it's in your own interests to check that your beach isn't on this list and to stay away if it is.
One thing you won't see, unless you're on a specifically designated beach, is nudity or toplessness. Unlike down on the Med or the Greek islands, you won't see mothers doling out sandwiches and a generous eyeful of boobage. Even toddlers running around flashing bare bottoms are rare. On public beaches (as opposed to resort beaches), you're usually not allowed to consume alcohol.
Although most states have adopted some form of Public Trust Act, defining public rights of beach access, the definitions are not universal. In some states, like Florida and California, people owning houses on the beach can also own most of the beachfront (depending on mean average tidelines), and you're not allowed to plonk your towel down there. In other states, such as Oregon and Texas, the public has been granted permanent public access to the beaches.
Not all "No trespassing" signs are legal though, and private beachfront homeowners (e.g. in Malibu) have been known to erect fake signs or hire security guards to shoo the commoners away. To be on the safe side, check with the locals (but not beachfront homeowners) or on the town's web site if you're worried about trespassing.
Some beaches, particularly in New Jersey, allow public access for a fee. You can purchase a daily or seasonal beach token or tag, which must be displayed to the official beach patrollers. If you don't purchase one, you will be asked to do so or leave the beach.
In places with cold winter weather, many beaches close for the winter. Chicago's beaches, for example, are only open from Memorial Day to Labor Day (roughly end of May to beginning of September), and many are fenced off during the winter. Despite it still being hot and sunny in the U.S. in September, the Debbie-Downer powers-that-be often deem it the end of beach season!
What's your favorite U.S. beach? See more on American beaches at BBC Travel.
See more:
Summer in the States – Keeping Your Cool
Exploring the Americas: 10 Holiday Spots Outside the U.S.
10 Affordable U.S. Travel Destinations – and How to Experience Them on a Budget
Read More
Filed Under: