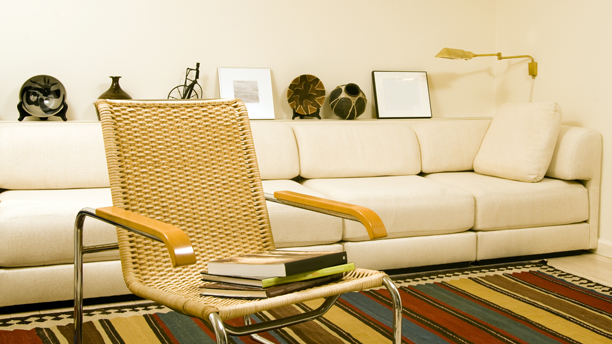 To a British eye, U.S. homes and interiors often have a foreign feel: big, bold and unabashed. Here are some of the key looks and styles for creating an abode that screams U.S.A.
Go large
Because Americans in every financial bracket tend to inhabit bigger spaces than their British and European counterparts, their furniture is fittingly gigantic. Everything from the couches and beds to the fridges and ovens are the size of an average British council flat. A king-size bed in the U.S., for instance, measures a full 16 inches wider than a U.K. king.
Shaker style
You've probably skimmed an American kitchen catalog and seen the obligatory Shaker style option. But what is "Shaker" exactly, and where does it come from? The Shakers were an English religious sect that settled in America in the 18th century, and whose guiding principles—simplicity, honesty and utility—informed a minimalist country style furniture movement. It's the closest equivalent America has to an English farmhouse look, though less flouncy and more utilitarian. To emulate, keep it simple. Invest in sturdy, simple but beautifully crafted pieces.
New England
Rustic painted wood, dreamy pastels and seaside accents (think anchors on the wall and decorative lobster pots), this look is as quintessentially American as they come. To get simulate this style on a budget, white wash your floorboards, buy striped cushions and slap some beach-themed prints on the wall.
Ranch style
Want to fool visitors into thinking you've got a couple of thousand cattle out back? Dress your home thusly: dark wood everywhere, preferably up to and including the beams (ranch style house usually have one story and a pitched roof) and floor. For accents, think mounted deer heads and other critters, log fires and plenty of rugs. Furniture should ooze comfort but also elegance. Neutrals and dark earthy tones should dominate.
Brooklyn hipster
Think ironic ornaments, reclaimed wooden objects decorated with stencilled birds and bad junk shop taxidermy—all purchased on Etsy, at Urban Outfitters or a flea market. Add strings of fairy lights, mismatched furniture and that well used Billy bookcase you found on the street. You'll want to up-cycle that, naturally, so check out this clever Ikea hacks website, which tells you how to turn the most bog standard hunks of MDF into quirky pieces fit for a hipster home.
Los Angeles architectural
Think geometric concrete structures painted white and jutting from a Hollywood hill. Inside, it's polished minimalism and mid-century modern. Accent—but never cram—the space with sleek hunks of statement furniture and abstract art.
Colonial
Think 19th century British/French/Spanish elegance with added tropical houseplants. Americans are wont to romanticize and recreate this era—design-wise, at least. (If you've ever toured a plantation house in the Deep South, you'll know exactly what I'm talking about.) It was, after all, an aesthetically impressive time—from the neutral paint shades to the lush dark wood floors and furniture.
Southwestern
Take the rich, earthy tones of Arizona and New Mexico and accent with turquoise and bright red. Homes done in this style will also be heavily influenced by the Native Americans who've long inhabited the region. For furniture, look to nature: lots of wood, leather and woven fabrics. Accessorize with pottery and anything rustic.
Patriotic
To pay homage to your new homeland with your home, You'll want to incorporate a lot of red, white and blue, but don't over do it or your house might start to resemble a 4th of July theme park. Sprinkle a few kitsch patriotic throw cushions on your sofa and blend some subtle stars and strips into the décor rather than, say, painting a giant American flag on a wall.
For tips on how to decorate your home, join @MindtheGap_BBCA and British interior designer Liza Evans (@lizaevansnash) on Twitter for #MindTheChat Wednesday (May 21) at 2 pm ET. Participate using hashtag #MindTheChat for a chance to win a prize from BBC AMERICA.
See more:
Brits in America: How to Set Up Home From Scratch
A Glossary and Guide: Home-Buying in the U.S.
A British Houseguest's Guide to the American Home
Read More
Filed Under: