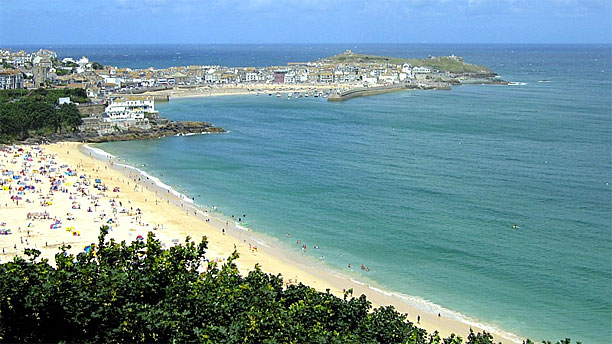 You may wish to come to the U.K. for the culture, the theater, the cream teas and the accents, but if you overlook the life-giving qualities of a trip to the seaside, you are missing out.
Granted, it's unlikely that any British beach resort can match the furnace temperatures of Florida or the surfing capabilities of California. So we'll just have to fall back on the one thing Brits always talk up when making transatlantic comparisons: character.
Here, then, are ten towns that provide as much in charm as they do in rolling sands. Or in whatever it is that pebbles do.
Nairn, the Highlands, Scotland
How beautiful is Nairn? So beautiful that it has not one, but two golf courses. In your face, Donald Trump! It also boasts award-winning beaches along the north coast of Scotland and a high street so long that a visiting James VI once observed that the people at either end spoke different languages.
Southend-On-Sea, Essex
As well as the classic British seaside fare: deckchairs, plastic hats that say "Kiss Me Quick, Squeeze Me Slowly" and the like, there's the world's longest pleasure pier (1.33 miles long with its own railway, any longer and it would be a bridge to France) and a Sealife Adventure Centre (although again, people from Florida may need to adjust expectations downwards). There's also the Cliff Lift (a lift up the cliff) and a planetarium for rainy days. Of which there will be many (see Florida point).
Margate, Kent
Margate has been the go-to beach holiday for people in the south east of England since before there were holidays. A fact emphasized by the existence of the Shell Grotto, a network of tunnels and caverns that were lined with shells at some point in the distant past, but no one is quite sure when. Or why. All other British seaside resorts—see also: Blackpool, Morecambe, Skegness—are modeled on Margate to some degree.
Barry, Vale of Glamorgan, Wales
As immortalized in Gavin & Stacey, Barry is surrounded by stunning beaches, including Whitmore and Jackson Bay, as well as more man-made attractions like Barry Island Pleasure Park.
Weston-Super-Mare, North Somerset
The ideal beach if you want to ride a donkey or have a lot of space in which to spread out. The only downside is that when the tide goes out in Weston, it really goes out. And out. And there are some mud-flats it would be an idea to avoid. On the plus side, another pier! And a wheel just like the London eye except far smaller and without a view of London.
Weymouth, Dorset
The best thing about Weymouth, apart from the fact that it really is a lovely little seaside town with charming red-brick streets is that the beach has been given Blue Flag status. Which means you can make this joke:
"I see the Blue Flag panel has said that some of the cleanest beaches in the whole of the British Isles can be found in Weymouth."
"In Dorset?"
"Yes, they really do."
Lyme Regis, Dorset
Just next to Weymouth is the Jurassic Coast, a long line of cliffs that are riddled with so many fossils it's a UNESCO World Heritage Site. Lyme Regis has two beaches: a sandy one for playing with buckets and spades, and a pebbley one with Ammonites underfoot.
Cromer, Norfolk
Another Blue Flag beach at the wet end of a very Victorian seaside town, giving the place a most definite Downton Abbey air, of the kind where you'd half expect to see wooden changing wagons being wheeled to the sea front so that ladies and the gentlemen do not become enflamed at the sight of each other's bathing suits. This impression is only heightened by the presence of the Parish Church on the skyline, 172 steps up and glaring down from on high. Be good!
St Ives, Cornwall
It's a bit of a trek to get to, being all the way down the far bottom left of Great Britain (the island, and the nation), but St Ives is rather special for all that. It has very particular light, you see. The kind of light that inspires artists to paint, and therefore amid all the Cornish pasty shops and stalls selling inflatable rings and whatnot, there are hordes of art galleries, and even an outpost of the Tate, including the Barbara Hepworth museum.
Brighton, Sussex
Do not take buckets and spades to Brighton beach, as it is made entirely of pebbles and will resist your best attempts to create any miniature battlements of any sort. Also, from personal experience, do not take a portable barbecue, cook burgers at twilight, and then absent-mindedly sit where the barbecue (now doused with seawater) had been. There will be burns. Apart from these two things, Brighton is a delightful seaside metropolis teeming with art and culture and ice-creams and seaside rock and a long pier. It was also the setting for the mods versus rockers scenes in Quadrophenia, and most of the locations remain largely unchanged since that movie was filmed.
See more:
10 Things Americans Love About Living in Britain
Move Over Nessie: Five Mythical British Beasts
Five British Holidays Americans May Not Know About
Snapshot: 25 Photos of British Seaside Towns
Read More
Filed Under: