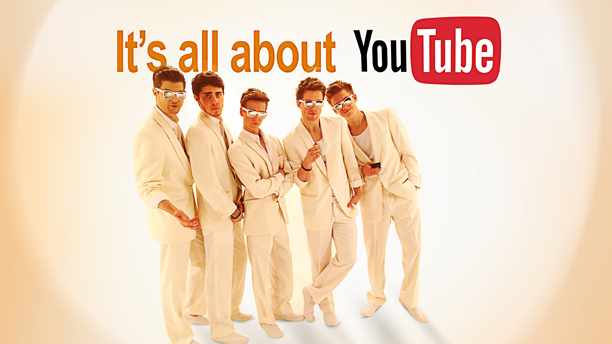 If you pride yourself on knowing about up-and-coming bands, there's no reason to beat yourself up if you've never heard of the YouTube Boyband. The main reason being, they're not actually a band.
Five British video bloggers—Alfie Deyes (20), Marcus Butler (22), Jim Chapman (26), Caspar Lee (19) and Joe Sugg (22)—started off working independently, videoing their everyday goings-on, reports Vulture.com.
For the most part, the guys sit and talk to their audience about anything and everything going on in their lives like going on vacation, getting a haircut or showing off a new apartment. The guys say they started gaining a lot of attention when they began appearing in each other's videos with followers ranging from 1.4 million (Chapman) to 2.3 million followers (Butler).
Deyes is sort of the front man, so here's a peek at his blog called "Pointless Blog" where he talks about what's on his iPhone:
While they are not a band in the traditional sense, the guys embraced the new label and incorporated it into their vlogging:
They talk about topics that are pretty weighty in the teen world:
If you're not a teenage girl it might be hard to wrap your mind around why their virtual diaries are so fascinating. New York Magazine turned to the experts and interviewed four New York City teenagers—Justine, Lucy, Florence and Kate—asking, "Why do people care?"
Justine kicked off the Q&A answering, "Once you start watching the videos, you feel included in their lives in a way. You feel like you know them so well, so it's just so entertaining to watch them. They'll kind of videotape everything they're doing."
The girls were asked if YouTube celebrities differ from more mainstream celebrities and here's what they had to say:
Florence: It feels like they're somewhat normal people. Brad Pitt is not a normal person.
Kate: Or like Harry Styles.
Lucy: Also these YouTubers are not trying to do things for attention.
Justine: Obviously in ten years they're still not going to be doing YouTube, right? I feel like they're gonna have lives and children.
The guys are able to make a living at video blogging through YouTube advertising.
What do you think is the secret to their success?
Hate One Direction? Five Brit Boybands You Could've Had Instead
20 Greatest British Songs of 2013
10 British Exports That Are More Popular In The U.S.
Read More
Filed Under: