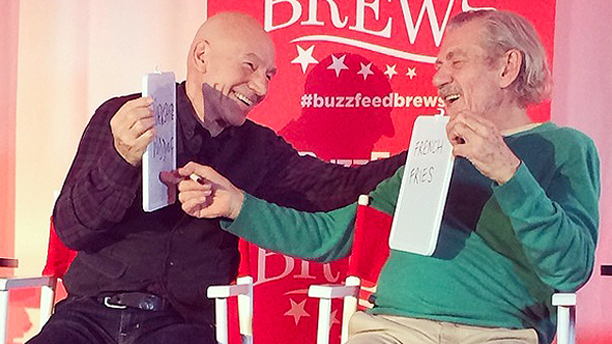 Best pals Sirs Patrick Stewart and Ian McKellen said goodbye to the U.S. after their successful run on Broadway, but that doesn't mean they're gone-gone. We still have their virtual antics to cling to.
It turns out the two actors took part in a Newlywed Game-style Q&A at a Buzzfeed Brews event, reports The Washington Post. The event took place in February, but the video is just picking up traction now. For those of you too young to remember The Newlywed Game, you can check out a clip of the original show here.
The basic premise is for a newly married couple to show off how well they know their partner by guessing answers to intimate or just plain funny questions asked of their spouse. In this case, Stewart and McKellen answer questions thrown out at them by Buzzfeed.
The first question is a stumper. Buzzfeed moderator Tommy Wesely asks Stewart, "Who is Ian's spirit animal?" McKellen jumps in asking, "Do I write that down as well?" McKellen's face is priceless; he doesn't seem to even know the answer himself. It will be interesting to see if Stewart can pull off the correct answer.
The next question is a crowd-pleaser with Wesely asking McKellen, "What food can't Patrick live without?" At the least, McKellen may have seen Stewart eat or they've chatted about food faves versus spirit animals. Funnily enough Stewart asks the same question McKellen just asked, "Should I write this down?"
The two of them picking up the rules as they go is just as entertaining as the Q&A itself. Stewart and McKellen both look away from each other while thinking of their answers. They write their answers down, still avoiding eye contact. It's as if they're afraid of reading each other's minds and spoiling the game.
Stewart tries to change the rules suggesting to Wesely, "Are you going to ask Ian the same question (about food favorites)?" The moderator, trying to be accommodating, replies, "Oh, do you want me to?" Stewart does want him to because he slips admitting, "I know the answer!"
They decide to move along with the planned questions.
The two definitely come across as an affectionate couple and while they may not correctly guess all of the answers, they will walk away from The Newlywed Game knowing a bit more about each other.
You can watch the entire video here:
Were you surprised by how many answers they got right/wrong?
See More:
PHOTOS: Sirs Patrick Stewart and Ian McKellen's NYC Adventures, Remembered
Sirs Patrick Stewart and Ian McKellen Attract Rave Broadway Notices
Sir Ian McKellen Surprised He Gets On with Bestie Sir Patrick Stewart
Read More
Filed Under: