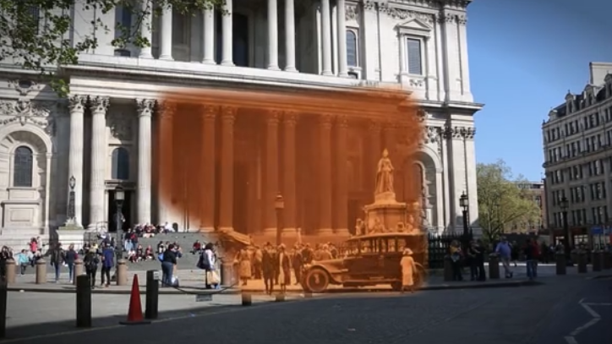 Before we get to the film, I wanted to share the below photo with you from my personal album. I was in London as part of a grad school program and before getting my study on, I mooched around with my friend Joanna Mitchell for the day.
We swung by Trafalgar Square, which you can see below: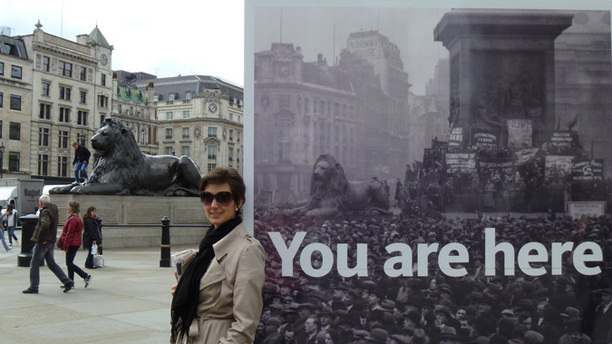 Mitchell, who grew up north of London, posed in front of one of the lions on guard. The "You Are Here" sign depicts a crowd gathering in protest during the early 1930s. The historical image caught within a modern day photo definitely made us stop and reflect.
Well, I wasn't the only one intrigued by this concept.
Filmmaker Simon Smith caught our eye with his short film, entitled Wonderful London 1924 and 2014, where he seamlessly blends footage from 1924 London with current day.
While the end result is stunningly masterful, Smith breaks down the process for us writing on his blog: "In 1924, Harry B. Parkinson and Frank Miller documented London in a fantastic series of short films, known as Wonderful London. Over the last few months, I have stood in their footsteps, recapturing their shots exactly, and have blended the two together creating a window through time."
We reached out to Smith via email and he was kind to write us back saying, "It wasn't really that difficult, and I'm sure many people have had the idea, I'm just able to do these things as I live here. And I think that's why these films appeal to people, there's a universal love for history and London."
It sounds simple enough (if you're highly technical), but for anyone interested in the step-by-step, Smith explains that he had to: 1) Separate Parkinson and Miller's films into a set of stills; 2) Upload them to his phone; 3) Go out in search of the exact spots in London.
He elaborates on revisiting the locations laid out in the original films writing via email, "I love it, especially when you see people, or when you realize the scene has barely changed like outside Dirty Dicks pub by Liverpool Street Station. Though I did notice that London is having a lot of construction work done, there's barriers, scaffolding, traffic cones, and maybe it won't be long before a film like this won't be possible."
The film coincidentally starts off in Trafalgar Square, moving along to St. Paul's Cathedral, Covent Garden, the West End, all the while spanning 90 years
(without the use of the TARDIS).
You can watch the entire film below:
If you'd like to find out more about Simon Smith and his work, you can do so by going to his website, Facebook, Twitter, Flickr or Vimeo Channel. He's around.
Did you have a favorite scene or location?
See More:
Snapshot: 21 Photos of 1920s London
Looking Backward: British Period Drama – the 21st Century Edition
'Downton Abbey's Leading Ladies To Visit the Multiplex
Read More
Filed Under: