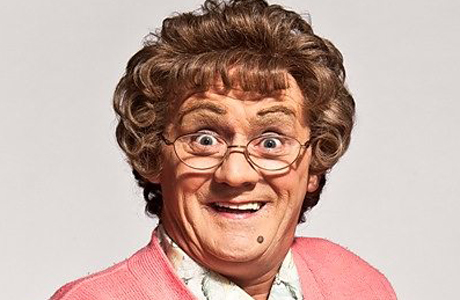 Mrs. Brown (Brendan O'Carroll) is back with her very own movie aptly called Mrs. Brown's Boys: D'Movie.
The critics may not be too keen on the Irish matriarch and her broad, going as far as to call the BBC1 series Mrs. Brown's Boys the "the worst sitcom ever made." But the TV show, which aired from 2011-2013, led the pack with 9.4 million viewers tuning in for the 2013 Christmas special. The series beat out ITV's Downton Abbey in U.K. ratings and was voted Best Sitcom in the 2013 National Television Awards.
We have a feeling there are some folks who may turn there nose up at the movie adaptation of the off-the-wall series, but on the other hand, there's a good amount of viewers looking forward to it. The movie's Facebook page already has 133, 317 likes. Well, make that … 133,318 now (we just liked it).
Mrs. Brown says it how it is and she doesn't curb her cursing. She's constantly sticking her oar in trying to fix problems, but she manages to make things worse. Even so, her friends and children can't stay mad at her for too long. Mrs. Brown hasn't changed and finds herself in a messy situation in D'Movie when Russian gangsters zero in on her and her fruits-and-veg stand, in order to take over the space. Mrs. Brown doesn't put up with any nonsense, telling a gawker, "Tom, if you're not buying, feck off." And she's not going to put up with Russian gangsters threatening her family or her livelihood.
You can watch the antics-packed trailer below:
The movie is set to hit U.K. cinemas on June 27. There's no word about it coming to the U.S. as of yet, but the TV series is available on Amazon.com Instant.
So, fingers crossed D'Movie will be available online.
Are you a fan of Mrs. Brown? 
See More:
What Are Brits Watching?: 'Mrs. Brown's Boys'
Brit Binge Watching: Five Dark Comedies You Can View Online
10 Common British Expressions That Baffle Americans
Read More
Filed Under: