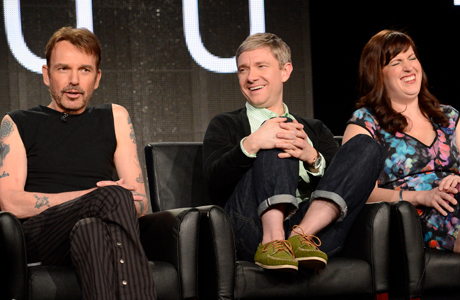 Martin Freeman stars in FX's Fargo, the TV series that picks up where the Coen brothers' film left off. People are asking, what's new and what's going to stay the same?
The folks at FX and the cast take some time out from filming to answer that question. It's the same location, same type of people, but all new characters with all new stories.
Executive producer Noah Hawley breaks it down saying, "We are in a Coen brothers universe. This show is about a civilized man (Freeman) who meets an uncivilized man (Billy Bob Thornton). It was our hope that we could create a movie cast and not a television cast. We're making a ten-hour movie."
Freeman elaborates: "The characters are rich. The characters are interesting. They're funny. They're capable of some horrible stuff. People will be surprised by it."
The below video may speed you up on what to expect:
In the trailer we find Lester Nygaard (Freeman), an insurance salesman, and Lorne Malvo (Thornton), a shifty drifter, sitting in a hospital waiting room. Nygarrd has his nose bashed in and two black eyes.
You can watch the trailer below:
Fargo premieres on April 15 at 10pm EST on FX.
Did the video answer any questions?
See More:
Watch: 'Fargo' Trailer Showing Off Martin Freeman's "Minnesota Nice" Accent
WATCH: Martin Freeman Sitting On A Dryer With Black Eyes
Martin Freeman Signs Up For 'Fargo' TV Series
Read More
Filed Under: