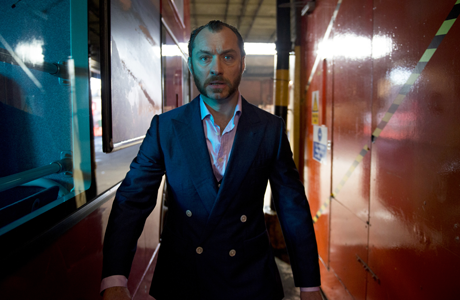 In the new British crime comedy Dom Hemingway, a new image of Jude Law emerges as he takes on a role that's a far cry from the pretty boy parts that once defined his career. "He's got such a masculine apelike physicality," says 41-year-old Law describing the larger-than-life loudmouth London safe cracker called Dom Hemingway he plays. Law ate junk food to help put on weight for the role.
The British actor can also be seen in cinemas right now playing an author in The Grand Budapest Hotel. He acknowledges that he's taking on parts quite different from those he once embraced. He says: "I think my curiosity in what I do has shifted somewhat," adding that he's not that interested in romantic leads. "They to me are somewhat limiting and not particularly nourishing as an actor."
In his younger days, Law starred in several big Hollywood studio films, but his recent pictures have been smaller more personal endeavors. To him there are creative advantages. "You can take more risks because the financial risks aren't so great."
But it's just been revealed that his latest film endeavor will be a studio picture, a spy comedy called Susan Cooper, which also stars Melissa McCarthy.
See more:
WATCH: Jude Law Strips In 'Dom Hemingway' Trailer
Read More
Filed Under: