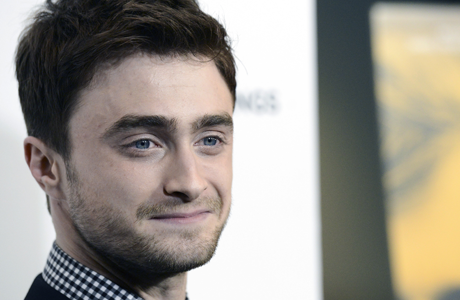 Daniel Radcliffe has to be one of the biggest names in show business. Yet even he has to actively court the press to generate attention when it comes to getting publicity for The Cripple of Inishmaan, the forthcoming Broadway play in which he stars. He maintains his name on the marquee alone isn't enough to bring in an audience. "Some names probably will be enough, I don't think any name on its own is enough. Broadway is a very competitive place," he says.
So Radcliffe has with his customary good nature has put himself out there this week appearing on TV talk shows and speaking to countless journalists. He's an extremely affable interviewee, unguarded and gregarious—unlike Billy, the disabled young Irish boy he portrays on stage. "He's one of the least extroverted characters in the play," says Radcliffe. "Everyone else is a lot louder and a lot brasher."
The dark comedy, which is written by Martin McDonagh, is a coming of age story involving a young boy on a remote island off the west coast of Ireland in the 1930s immersed in a life of tedium. He becomes energized when he learns that an American filmmaker has come to a neighboring isle to make a movie.
The production of Inishmaan that New Yorkers will be seeing is being staged by the Michael Grandage Company, which had an extremely successful run with it in London last summer.
For Daniel Radcliffe, the play deals with some big ideas. "It's about where you belong and about home and about what that is to people," says the actor. He also says: "The thing that comes up and is a huge thing for Billy is the disconnect between how he knows himself to be and how people perceive him, and talking to people who do live with disability, that is the frustration that comes up again and again and again."
The Cripple of Inishmaan opens at Broadway's Cort Theatre on April 20.
Read More
Filed Under: