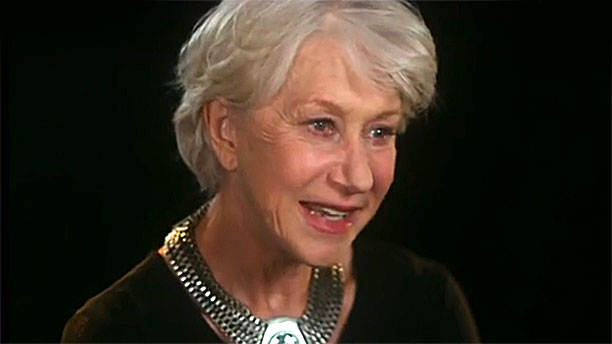 Last night, the BBC's current affairs show Newsnight interviewed Dame Helen Mirren for her thoughts about the 450th anniversary of the birth of William Shakespeare (which, as we discussed yesterday, is around about now).
During the conversation, in which she also revealed a cunning plan to get teenagers to appreciate the Bard of Avon using reverse psychology, she also expressed disappointment that she had never had the chance to play young Juliet in Romeo and Juliet.
But not only that, she sometimes practices the lines to herself, mournfully, and can recall them at a moment's notice.
Look:
Of course, if what she says about Shakespeare plays being translatable into all manner of situations, surely a romance between the elderly and overlooked grandparents of two rival families could still work? I mean the balcony scenes might have to be a little less athletic, but it's worth pursuing…
See more: 
Dame Helen Mirren, What Are You DOING?
Helen Mirren's Advice For Young Actors: "Don't Be Up Your Own Bum"
Don't Mess With The Dame!
Five British Stars And Five Things They Should Give Up For Lent
Read More
Filed Under: