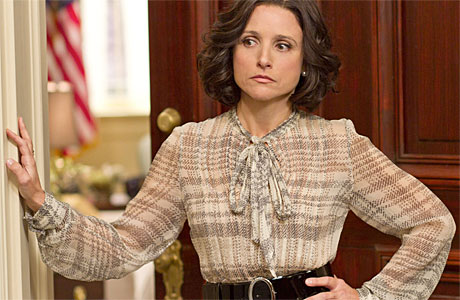 This Sunday, the political comedy Veep makes a welcome return to HBO, expertly guided once more by the sure hand of Armando Iannucci.
For over 20 years, Armando has been making comedy out of the twin monsters of media and politics, starting on radio, with the spoof news show On The Hour, and then making the jump to TV in 1994, with the first delight on our list…
The Day Today (1994)
It's tough to overstate the influence these six short episodes have had on British comedy. Quite apart from being the first time TV audiences clapped eyes on Steve Coogan's soon-to-be monstrous Alan Partridge, The Day Today savagely parodied the insanity of rolling news, kicked out at politicians of all stripes, allowed the show's nominal front-man Chris Morris the chance to undermine the fabric of British (broadcasting) society, and crammed every available second with wit and linguistic astonishment and sharp digs at the self-righteousness of journalists and politicians alike.
The Friday Night Armistice (1995)
After the supertalents involved in The Day Today went their separate ways, this was an attempt to make a political sketch show within the confines of live-to-camera entertainment, rather than a parody of Newsnight. And of course, there were plenty of cameos from actors who went on to bigger things… (yes that's Simon Pegg).
Knowing Me, Knowing You… With Alan Partridge (1994-5)
If The Friday Night Armistice took on the political side of The Day Today, Knowing Me, Knowing You went back to attacking hackneyed TV staples; this time focussing on the chat show. Alan Partridge makes an appalling host, being every bit as charmless, pompous and unpleasant as you'd imagine most TV personalities are when the cameras are off, but as he's also spectacularly unconscious of his own flaws, he just puts it all on screen, while trying as hard as he can to be the consummate professional.
Time Trumpet (2006)
A dazzlingly simple idea, based on a glut of TV retrospectives that have since left the airwaves to become internet listicles about the past (hello!). What if we were watching a TV show from the future, looking back on British culture now? Well you'd get astonishments like this edited speech-off between Labour Prime Minister Tony Blair and Conservative pre-Prime Minister David Cameron.
I'm Alan Partridge (1997)
And lo, did the Partridge continue to grow. After the grand finale of Knowing Me, Knowing You, in which Alan punched Tony Hayers, Chief Commissioning Editor of BBC Television, in the face with a roasted chicken, his next series was a behind the scenes affair. Alan, now living in a Travel Tavern (a motel in all but name), desperately tries to get his career back on track, while broadcasting in the middle of the night for Radio Norwich.
The second series (from which this clip is taken) sees Alan in slightly better form, having recovered from a nervous breakdown, which he calls being "clinically fed up." Thankfully his natural tenacity has survived, and he's soon back on his feet and back on the air.
The Thick of It (2005)
Don't watch this clip. It's got so much swearing in, possibly as a result of Armando hiring Ian Martin as the show's swearing consultant, and primarily to beef up the skin-flaying aggression of Peter Capaldi's Malcolm Tucker. Whereas the The Day Today was about the media's view of politics, The Thick of It is about politics being stuck under the enormous microscope of the modern media. The scrutiny weighs so heavily that only horrific characters like Malcolm Tucker can survive (or can he?).
In The Loop (2009)
The Thick of It in movie form, and equally NSFW.
Alan Partridge: Alpha Papa (2013)
And here's Alan, now working at North Norfolk Digital and about to undergo a terrible ordeal. He'll be fine though, he always is. In fact, there's another Alan Partridge movie on the way…
And, to bring things up to date, here's the trailer for Veep Season 3:
https://www.youtube.com/watch?v=gy6FpoWhEO0
For a fascinating inside look on how Veep is written, read this interview Armando recently gave to The Wrap.
See also:
Armando Iannucci: "I Want To Write A 'Doctor Who' Episode"
'The Thick Of It' Takes "Omnishambles" All The Way To The Dictionary
Armando Ianucci: "Not All Americans Are Brilliant"
WATCH: A Delightful Trailer For 'Alan Partridge: Alpha Papa'
Read More
Filed Under: