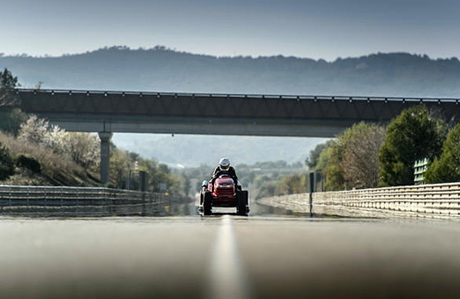 It's official. Top Gear magazine and Honda, working in tandem, have broken the world speed record for a lawn mower. And yes, Top Gear wasn't quite sure about the pressing need for a lawn mower that goes 116.575 miles per hour, but they knew about the pressing need to get the Guinness Book of World Records in on the scheme to verify it.
When we reported on the planning efforts last summer to break the previous record, which is variously reported as 87.8 mph or 96.5 mph, the designers of Honda's Mean Mower estimated that it would be able to get up to 130 miles per hour. As driven on a Spanish race course by Top Gear magazine writer Piers Ward, it didn't quite make it that fast, but its average 116 mph speed easily satisfied the Guinness judges, who insisted that it also be able to actually cut grass.
Coincidentally, a previous holder of the world lawn mower speed record, American Bobby Cleveland, was also in the news earlier this month, when he showed up for an event at which it was said he would jump a lawn mower over 22 cars. It turns out it was an April Fool's prank. The actual feat was far less impressive:
Cleveland, who told a reporter for Crave Online, that he's always been "highly mo-tivated," said he got the idea for the joke while he was drinking.
• Richard Hammond made a surprise visit to a motorcycle festival near Cheltenham, Gloucestershire last week.
The Top Gear host's appearance was "a complete and utter surprise," the Prescott Bike Festival's publicity manager told the Gloucestershire Echo. "We whizzed him up the hill in a Bugatti, and he had lots of people taking his photo. He even did a stint in the commentary box—he threw himself into it, it was really helpful," she added.
Met @RichardHammond at Prescott hill climb thanks for the photo!!!! pic.twitter.com/qOjVmRSjh0

— Jake (@Jakey_Tustin) April 6, 2014
The Tewkesbury Admag reported that the Hamster rode in on a classic Norton Dominator motorcycle and praised the work of the Nationwide Association of Bloodbikes, an organization that provides medical transport via motorcycles of emergency blood supplies and organs.
"As an honoree member of Bloodbikes, I am delighted to finally make it to Prescott Bike Festival and support such a fantastic cause," Hammond said.
Gd to see my neighbour Gordon Downie mixing with biking royalty! at Prescott Hill Climb @GL529RD @RichardHammond pic.twitter.com/EWv8M90RtE

— Nicky Godding (@NickyPRJourno) April 6, 2014
• The U.K.'s first female Formula 1 commentator reflected upon a road not taken: turning down a chance to be a Top Gear host. Suzi Perry told the Telegraph that before Top Gear was re-launched in 2002, she had discussions with producer Andy Wilman about coming on board as a presenter. "I remember thinking, 'I might be out of my depth, and it might not be a good idea,' instead of grabbing the opportunity," she told the paper. "Looking back, I may have made a large error, but it's not like I didn't work for the next 15 years. I don't regret it—but it was probably a bad decision."
Read More
Filed Under: