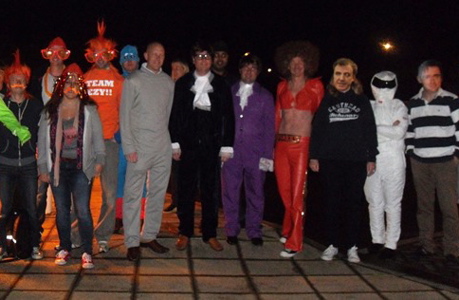 Top Gear travels all over the planet, finding inspiration for its epic challenges in real world places from Burma to the Arctic. But, like many of the roads traveled by Top Gear, it's a two-way street, as fans have devised their Top Gear-inspired challenges.
Local businesses in the British town of Crawley in West Sussex have scheduled a Top Gear-style charity race for next month in which 32 participants on seven teams will try to drive from Crawley to Milan in just under 13 hours.
One team will take public transportation, and the team's leader told the Crawley News that he's optimistic about coming in first.
"The earliest time we can get into Milan through making all our planned connections is not far off the optimum time, so we are in with a good chance," he said. "We can get on trains, buses, walk, try to hitchhike, or even get on a horse and cart if we want."
Just one look at that quote is enough to tell you that there's no question that they're learning tactics and strategy from Top Gear.
One of the race's organizers said the show was the inspiration for a similar race from Crawley to Monaco last year. Matt Turner, who runs a printing company in the town and is also one of the competition's drivers, said that last year's race raised more money than previous physical competitions, which involved activities like long-distance swimming or climbing mountains. Driving races, says Turner, allow more people to participate.
Here's a front window-cam view of the Monaco race, time lapsed to take place in just two-and-a-half minutes:
This year's teams will set off at 4 am on May 9, heading to the Eurotunnel. Teams can win extra time by executing tasks, like buying French tarts or German pretzels, along the way. All teams are required to show up at the end with chewing gum and a newspaper from Italy dated May 9.
Team members are also being encouraged to wear fancy dress for the race. Last year's teams wore costumes in various themes ranging from Austin Powers to the Muppets to, of course, Top Gear.
• Top Gear inspirations reach many other aspects of peoples' lives—and many other parts of the globe, as well. Earlier this year, in South Australia, Top Gear fan and husband-to-be Ben Wells decided that his bucks (translation: bachelor) party activity would be a three-day Top Gear-style race. Like a Top Gear challenge, there were basic rules—Ben and his friends could each spend just a little over $1000 to buy and do basic maintenance on the cars for the roughly 1250 kilometer (776 mile) trip around the Fleurieu Peninsula, south of Adelaide.
• Ben's best man Matthew Gauci told the Victor Harbor Times, "At the time I remember saying we should do it for Ben's bucks as a bit of a joke, and it kind of snowballed from there," he said. "We have for years thought that is would be good fun to do a Top Gear style challenge/run."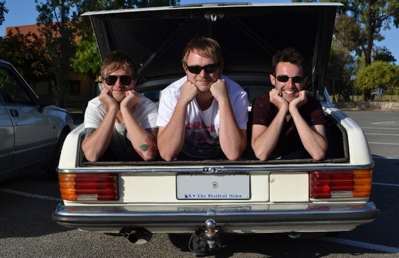 • Top Gear's inspiration is even sometimes of the divine variety. Earlier this year, Neil Pickford, a columnist for the Hull Daily Mail, acknowledged that he had been inspired by Top Gear to practice "Christian driving." Pickford, crediting James May, defined Christian driving as "a style of motoring that lets other people out of side junctions ahead of you, doesn't try to carve people up at traffic lights and generally goes with the flow." Pickford added that he wasn't a practitioner by choice, suggesting that his conversion was a forced one and blaming his car for having no pickup.
• We've already seen how Top Gear's redesign of mobility scooters inspired actual rentals of sturdier models.  In Edinburgh, tourist officials have suggested to visitors that driving around the area might be more fun in Top Gear-inspired cars. "Now you can plan a magical, memorable, Top Gear-style motoring adventure," wrote the Edinburgh Guide, as it suggested visitors such high-end cars as a Land Rover Evoque, Audi TT Coupe or Caterham.
• Top Gear inspires people around the world in other areas besides cars, as well. In Mumbai, radio host and dentist Rishi Kapoor says he hopes to be as successful on the radio talking about dentistry as Jeremy Clarkson is on TV talking about cars. "I am funny," says Kapoor. "I would love to do a show that is more like Top Gear on a radio format and ride in fancy cars." (via Radioandmusic.com)
———————————————-
Now it's your turn. How has Top Gear inspired you or people you know?
———————————————-
Read More
Filed Under: