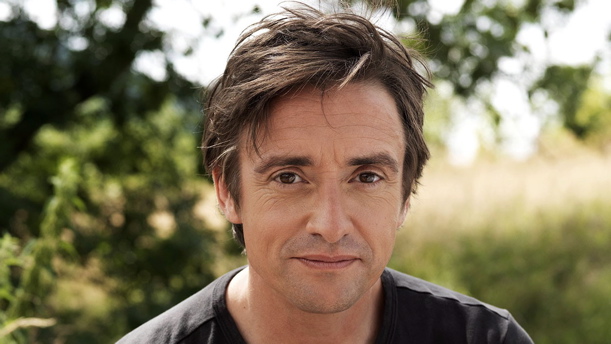 Richard Hammond isn't a scientist but he sometimes plays one on TV.
He's currently the host for a National Geographic show, airing in the U.K., called Science of Stupid, which explains the real science behind zany YouTube clips.
Hammond told the Birmingham Mail that he would have liked to have been a real scientist but felt, earlier in his life, that he was forced to make a choice not to pursue that interest.
"At school I was rather put off it," he said of his formal training in the scientific subjects. "It felt inaccessible, it felt exclusive. I just felt it was one of those things for other people."
He felt he had to choose early on between science and the arts.
"I just leant towards the artistic side of things rather than pursue science," he said.
"That's such a shame."
Still, he told the Mail, "The world lost nothing when they lost me as a potential scientist."
But the world gained Hammond as an actual host of science programs—here's a video of the Hamster discussing the Science of Stupid, which, like Top Gear, often focuses on big-time fails. "Try to break the laws of science," warns Hammond, "and they'll break you."
If that clip whets your appetite, then here's more of the show that Hammond says "combines science and stupidity in a mix so hot, it'll grab you by the pants." In fact, it's the complete first episode:
http://youtu.be/B05KqfJpTcA
This isn't the first time that Hammond has hosted a science-leaning program; he was also the presenter on such shows as Brainiac: Science Abuse and Richard Hammond's Engineering Connections. (Click here to see some videos from Engineering Connections.)
• Of course, the Hamster isn't the only member of the Top Gear triumvirate to take an active interest in the scientific world. James May frequently looks at scientific issues—there are his shows, James May's Science Stories, and James May's Man Lab. Perhaps you'll remember his examination, through beer drinking, of the treacherous Monty Hall Problem?
May is also a host of the web series, Head Squeeze, which answers viewer queries every week. Here's one episode that may be of particular interest to Anglophenia readers, in which James tackles the question: Why do we have accents?
• And no, in looking at matters scientific, we're not going to leave out Jeremy Clarkson. Clarkson had a BBC series, Inventions that Changed the World, that focused on the impacts of such developments as the computer, the gun and the telephone. But Clarkson also looks at, or mangles, scientific issues on Top Gear. Here he is in a Top Gear video outtake from the Africa special in which he struggles with age-old questions about the equator. Top Gear has appropriately named the clip "Professor Clarkson does Science stuff at The Equator." As you'll see, Richard Hammond asks James May about Clarkson: "Is he an idiot or a moron?" You decide:
• By the way, we can't let this pass: Jeremy's birthday was last Friday, April 11. Happy birthday, Jezza!
Read More
Filed Under: