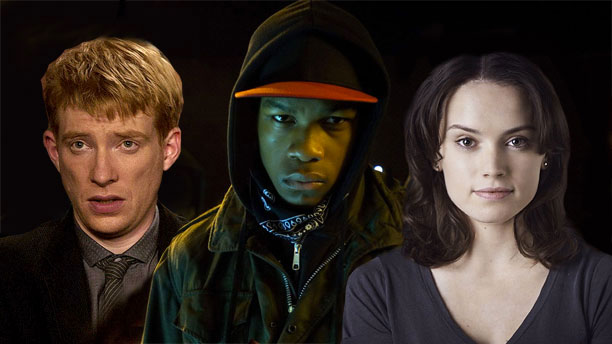 After so much intense speculation as to who will be making an appearance in J.J. Abrams' new Star Wars movie, when the actual cast list appeared yesterday it was almost a disappointment. No Benedict Cumberbatch, for example. Tom Hiddleston? Unlisted. Martin Freeman and Matt Smith? Conspicuous by their absence.
But that's not to say that the Brits aren't adequately represented. In fact, alongside Andy Serkis (the least surprising name on the list, given his talent playing CGI creatures), and the old guard of Anthony Daniels (C3PO), Peter Mayhew (Chewbacca) and Kenny Baker (R2D2), there are three names that hardcore Star Wars fans will need to become familiar with very soon.
So let's get started:
Domhnall Gleeson
Richard Curtis fans and Harry Potter fans will already know Domhnall, of course. He's the star of the time-traveling romcom About Time, and Bill Weasley in the two Deathly Hallows films, and despite being entirely Irish, can play the perfect English gentleman with the best of them. You will shortly be able to see him appearing alongside Michael Fassbender's papier mâché head in Frank.
Daisy Ridley
https://www.youtube.com/watch?v=63wrQEtjHBU
She may have has fewer credits than Domhnall, but Daisy is not without experience in front of a camera. She's been in Mr. Selfridge (playing the character Roxy in the episode of the same name), Silent Witness (in a two-part story called "Fraternity") and the young British actor's permanent source of temporary income, Casualty. She has also appeared in Channel 4's urban youth drama Youngers, and even appeared upside-down in this dystopian short film Blue Season.
John Boyega
Fans of Edgar Wright should really have checked out Joe Cornish's marvelous Attack The Block by now, and if you have, you'll have seen John playing young gang-leader Moses, who has to defend an invasion of his turf by some distinctly unpleasant new arrivals. Good with aliens, y'see…
You can also see him alongside Keifer Sutherland in 24: Live Another Day.
See more:
The Unfamous Five: British Actors You Never Saw In 'Star Wars'
10 Sci-Fi Franchises Influenced by 'Doctor Who'
'William Shakespeare's Star Wars' on Shelves July 2Simon Pegg Interviews J.J. Abrams About 'Star Wars' And 'Star Trek'
Read More
Filed Under: